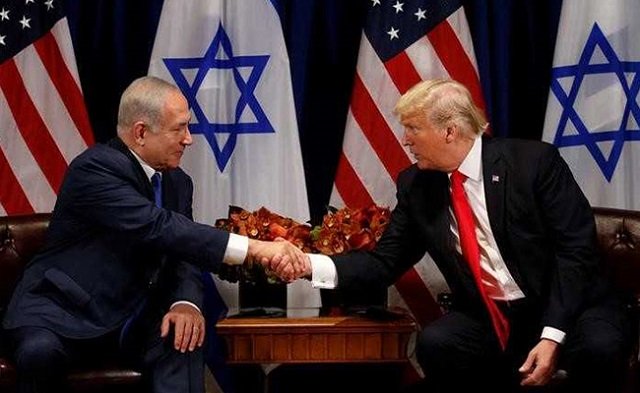 ---
WASHINGTON/JERUSALEM: US President Donald Trump and Israeli Prime Minister Benjamin Netanyahu hold talks on Monday that offer a chance to project a common front against Iran but are expected to do little to advance seemingly stalled Israeli-Palestinian peace prospects.

Mired in corruption investigations threatening his political survival, Netanyahu - questioned at his home by police on Friday - will step into a different spotlight during his five-day US visit.

Trump's push to change or scrap Iran's 2015 nuclear deal with world powers and concerns over Tehran's foothold in Syria are expected to top the agenda of his talks with Netanyahu, US and Israeli officials said.

Both leaders have long railed against the deal, citing its limited duration and the fact it does not cover Iran's ballistic missile program or its support for anti-Israel militants in the region.

Trump has threatened to pull out of the agreement unless European allies help "fix" it with a follow-up accord. An Israeli official said Netanyahu and Trump were likely to talk about how to overcome European resistance on the matter.

"I intend to discuss a series of issues with (Trump), but foremost Iran, its aggression, nuclear ambitions and aggressive actions in the Middle East, including along our very border," Netanyahu told reporters on his departure from Israel.

Israel has accused Tehran of seeking a permanent military presence in Syria, where Iranian-backed forces support Syrian President Bashar al-Assad in a civil war.

Netanyahu has also cautioned that Israel could act against Iran itself after an Iranian drone flew into Israel last month and an Israeli warplane was shot down while bombing air defenses in Syria. He has accused Iran of planning to build precision-guided missile factories in Lebanon, amid tensions along that border.

"We want to know and we must know, what the US position will be if we do enter into some wider confrontation with Iran," Michael Oren, a deputy Israeli cabinet minister and former ambassador to Washington, said on Sunday on Israel's Channel 13 TV.

US Secretary of State Rex Tillerson has called on Iran to withdraw its military and militia from Syria. But with Russia the dominant international player in Syria, it is unclear what practical steps Washington could take to ease Israeli concerns.

Trump and Netanyahu will also discuss efforts led by the president's son-in-law and senior adviser Jared Kushner to develop an Israeli-Palestinian peace proposal, which the president has said could lead to the "deal of the century."

The process has gone nowhere, however, since Trump's recognition of Jerusalem as Israel's capital in December and announcement of the coming move of the US embassy to the city in May, shortly after Israel's 70th anniversary.

Kushner also finds himself on the defensive amid investigations into alleged meddling by Russia in the 2016 presidential campaign.

Palestinian leaders have reacted to the change in decades-old US policy on Jerusalem by rejecting Washington's traditional leadership of peace efforts. Netanyahu told reporters in Israel that he will discuss with Trump the possibility of inviting him to the embassy's Jerusalem opening.

'Routine check-in'

No major announcements or breakthroughs are expected from Trump's talks with Netanyahu, whose relationship with the president has been among the closest of any other world leader.

"This is a routine check-in meeting," one US official said of Netanyahu's second visit to the Trump White House. For Netanyahu, however, the Oval Office meeting and address to the pro-Israel lobby group AIPAC on Tuesday offer a respite from his legal troubles.

Netanyahu awaits a decision by Israel's attorney general on whether to indict him, as police have recommended in two bribery cases. Netanyahu denies any wrongdoing.

US officials have said the cases are not expected to affect Netanyahu's talks, which include meetings with members of Congress. The Trump administration remains hopeful the Palestinians can be drawn back into negotiations after a "cooling-off" period, one US official said, while conceding there had been no sign that would happen any time soon.

Some analysts believe Kushner's ability to run the Middle East initiative has been further handicapped by his loss of access to certain valued US intelligence because of a recent White House clampdown on access to such secrets for those without full security clearance.

The Trump administration has no plans to use Netanyahu's visit to roll out peace proposals Kushner's team is crafting, a second US official said, speaking on condition of anonymity. "We are as committed to peace as ever," the official said. "We will release the plan when it is done and the time is right."

US officials have told Reuters it would deal with all major issues, including Jerusalem, borders, security and the future of Jewish settlements on occupied land and Palestinian refugees, and would also urge Saudi Arabia and other Gulf states to provide significant financial support to the Palestinians.