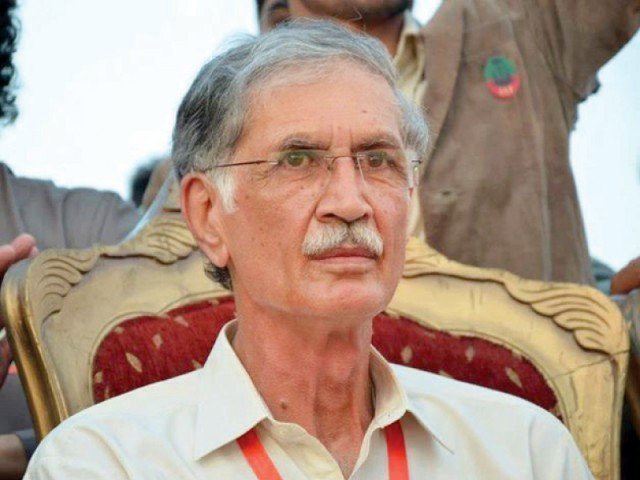 ---
PESHAWAR: For much of its nearly five years in power, the incumbent government has made much about its focus on education and for bringing wholesale improvement in the improving, there are still a number of schools which are still waiting for this benevolence from the government.

Students at a government primary school in the Kali Kandow area of the Ziarat Kaka Sahib Union Council in Nowshera — the hometown of Khyber-Pakhtunkhwa (K-P) Chief Minister Pervez Khattak — have only a single classroom available with the school lacking any basic facility such as that of water, washrooms, boundary walls or electricity.

Even though the school is located in Khattak's constituency of PK-13 Nowshera-II, locals say that the CM has never even asked about the school or its condition.

The K-P Elementary and Secondary Education Department (K-PESED) has claimed that from 2013 to 2017, more than 83,000 missing facilities have been built at a cost of over Rs29.11 billion under conditional grant schemes.

According to the documents of K-PESED, more than 24,000 government schools have been provided with basic facilities.

However, on the other hand, schools like those in Ziarat Kaka Sahib UC in Nowshera are still deprived of basic facilities.

Kali Kandow is a small village with a population of around 1,000 people. Around 30 per cent of the village's population are children.

However, of these, only 40 are enrolled in the one-room school.

A resident of the village shared that there are a host of issues in the school beyond just the absence of other rooms.

"There is only one room without a boundary wall, furniture, electricity or water, the resident lamented.

"The building of this school also damaged and has been built far away from the village," he said explaining the reason for low enrollment.

Residents said that the damaged nature of the school's building was among the primary reasons dissuading parents from sending their children to the school.

Riaz Khan, a resident told The Express Tribune, that the school has a single room and students from all grades sit in the solitary classroom.

He urged K-P chief Minister and Education Minister to provide the school with facilities since their people wanted to give education to their children, but without facilities, they were deprived of their right to education.

However, K-P Elementary and Secondary Education Minister Atif Khan blamed the previous government for building one and two-room schools.

Atif explained that for political scoring, past governments had built these schools where they appointed their near and dear ones. Thereby, they killed two birds with one stone — endearing to the population by offering them a school in their area and winning favour by offering jobs.

Accusing past governments of not taking serious steps for education, Atif said that in vast contrast the incumbent government had set up as many as 2,428 new schools across the province.

He further claimed that there were only 308 higher secondary schools in the province when the Pakistan Tehreek-e-Insaf (PTI) took over in 2013. But since, this number has nearly doubled to 605.

The minister said that they had revised a policy for schools meaning that primary schools must have at least six rooms instead two. In this regard, work on 410 primary schools is currently in progress under this new policy.

Of these, work on 115 schools has already been completed.

The new policy, Atif explained, would enable the government to enhance the capacity of the schools to accommodate more than 200,000 students.

Published in The Express Tribune, March 5th, 2018.