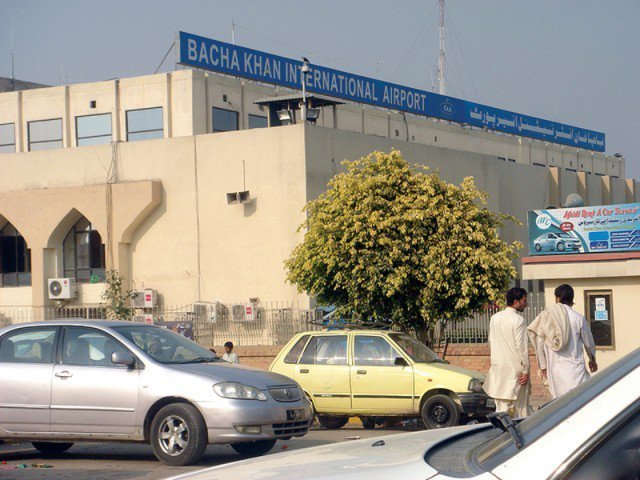 ---
PESHAWAR: As expansion work on the only international airport in Khyber-Pakhtunkhwa ends, doors to the upgraded facility are likely to open for visitors later this month on Pakistan Day, March 23.

The Bacha Khan International Airport (BKIA) in Peshawar has been struggling since June 25, 2014, when a Pakistan International Airline (PIA) passenger returning from Riyadh came under a gun attack from militants in the densely populated areas around the airport.

They had opened fire at the plane just as it came in for landing at the facility and as a result, a woman was killed while two crew members sustained bullet wounds, one of them was shifted to the hospital in critical condition.

Senators want additional roads for Bacha Khan airport

Ever since, night operations at the airport have been suspended, severely impacting airlines and passengers.

A Civil Aviation Authority (CAA) official said that even without night operations, the facility was already overburdened since it had not been expanded for decades. Moreover, many airlines moved their international flights to daytime slots, increasing the traffic in the day and making it difficult for authorities to manage the load.

"An international airline always wishes to operate according to their own schedule and this is what makes it difficult for us since we operate three international flights between 7am and 9am," a senior CAA official informed.

"Now guess the situation at international arrival, dealing with all that luggage and, above all, the traffic coming in to pick or drop passengers off at the facility," the official explained as he requested anonymity since he was not entitled to speak to media.

CAA at BKIA operates over 35 flights, including four domestic, on a daily basis where passengers from across K-P and the federally administered tribal areas and the provincially administered tribal areas either fly in or out.

An official of CAA at BKIA, who was privy to the developments, stated that the Rs2 billion expansion work, which started almost a year after the June 2014 incident, was almost complete and that they expected to inaugurate the upgraded facility later this month.

"Yes, work worth over Rs2 billion has almost been completed and the facility will be inaugurated soon," the official told The Express Tribune.

Security in and around Peshawar airport put on high alert amid terror threat

He stated with the province's lone international facility, the federal government decided to expand the facility in 2015, adding that construction on both the domestic and international lounges and three air bridges [from the lounge to the passenger planes] is almost finished. However, it will be sometime before work on the car park for the airport is completed.

The multi-storey car park is could take over a year to build. In the interim, vehicles are being accommodated in an empty area outside the facility.

Even as expansion work nears completion, authorities have been searching for a 'Green Field', space to build a completely new airport near Badhber.

"It has come into my knowledge that [construction on] a new facility is being considered and space is being identified on the outskirts of the provincial capital," the CAA official shared.

The federal ombudsman, in August 2015, had inaugurated a facilitation desk at BKIA for the convenience of overseas Pakistanis. Representatives of 12 different agencies, including customs and health departments, Anti-Narcotics Force, Airports Security Force, CAA, Federal Investigation Agency and others are present at the counter and are accessible to overseas Pakistanis.

BKIA is among the oldest airstrips in the country after the then British empire had set up a field in Peshawar, serving as a refuelling spot.

After the Partition, it was shared by the CAA and the air force who used it as their primary airfield in the northwestern part of the country.

So much so that it became a common sight in passenger planes for enthusiastic passengers to unbuckle their seatbelts and rush to the windows to catch a glimpse of fighter jets who stood in a part of the airport through which their planes taxied through — either immediately after landing or just before taking off. Aircrews often had a hard time convincing passengers to take their seats.

BKIA gained international status in 1965. The first extension in facilities it got was in 1986 to handle wide-body aircraft. In 2008, it was decided that the airport needed to be expanded further.

Published in The Express Tribune, March 5th, 2018.
COMMENTS
Comments are moderated and generally will be posted if they are on-topic and not abusive.
For more information, please see our Comments FAQ