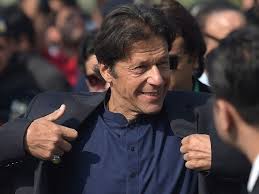 ---
The Pakistan Tehreek-e-Insaf (PTI) Chairman arrived in Karachi for a two-day visit, reported Express News.

He was accorded a warm welcome by party leaders and members.

Horse trading: Imran reiterates call for direct Senate elections

To commence the Million Tree Tsunami campaign, Imran planted a tree outside the airport. In his brief address, the PTI chairman said that the government has no authority to privatise PIA as it has only three months left in power.

He said national assets are not privatised in any country and PTI will end political interference in PIA and make it a successful airline.

Later, while addressing a doctor's forum, Imran spoke about the city's biggest challenge – ownership. "The biggest problem of Karachi is that no one takes responsibility of the city," he said.

The PTI chairman stated that Pakistan is the most backwards nation in the region in terms of human development. He also stressed the importance of improving the police in Karachi.

SC want Imran's reply on objectionable NOC

Speaking about healthcare, Imran claimed health insurance was provided to 69 per cent of K-P's population through health cards. Adding, performance in big hospitals was the result of merit. The Shaukat Khanum hospital in Lahore is the only cancer hospital in the world where 75 per cent of the patients are treated for free, claimed the PTI chairman.