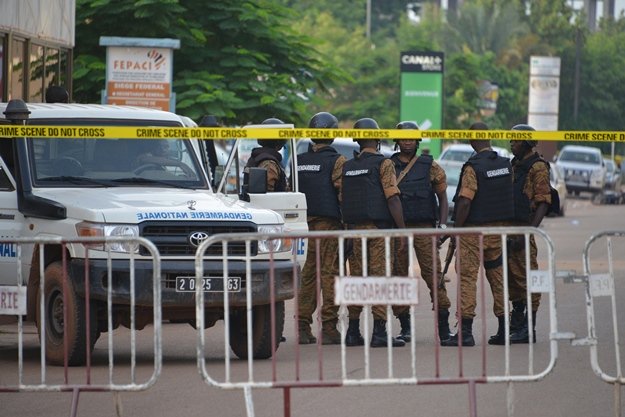 ---
OUGADOUGOU, BURKINA FASO: A Mali-based affiliate of al Qaeda has claimed responsibility for attacks in neighbouring Burkina Faso's capital Ouagadougou that killed eight people at the army headquarters and French embassy, according to the Mauritanian news agency Alakhbar.

The group, Jama'a Nusrat ul-Islam wa al-Muslimin (JNIM),
often uses Alakhbar to claim responsibility for strikes against
civilian and military targets across West Africa's Sahel region.

Dozens dead in attacks on Burkina military HQ, French embassy

Alakhbar, citing a recording from the group, reported that
the attacks were carried out in response to the killing of one
of JNIM's leaders, Mohamed Hacen al-Ancari, in a recent raid by
French forces. The attackers killed eight people and wounded dozens more in a coordinated assault.

Dozens of people were killed Friday in twin attacks on the French embassy in Burkina Faso and the country's military headquarters, an assault that coincided with a meeting of regional anti-militant forces.

Suicide car bombing caused blast at Burkina army HQ, says minister

The apparently coordinated attacks underlined the struggle the fragile West African nation faces in containing a bloody and growing militant insurgency.

The government said the attack on the military was a suicide car bombing and that a planned meeting of the G5 Sahel regional anti-terrorism force may have been the target.

Officials from Burkina Faso, Chad, Mali, Mauritania and Niger were at the meeting, representing the G5 Sahel nations who have launched a joint military force to combat militants on the southern rim of the Sahara.


COMMENTS
Comments are moderated and generally will be posted if they are on-topic and not abusive.
For more information, please see our Comments FAQ