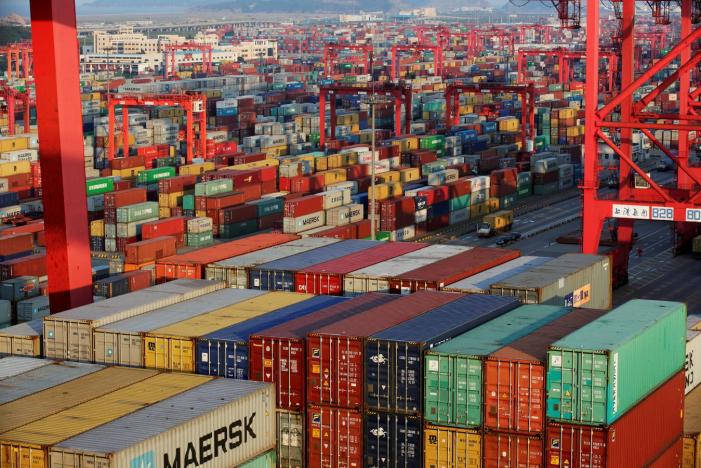 ---
KARACHI: US President Donald Trump is en route to adopting protectionist policies which may spark a global trade war. While his intended actions will not impact Pakistan directly, experts believe they will create a domino effect that will hit the country.

In a big bang, Trump said steel products would face 25% tariffs and aluminum 10% from next week.

"This is exactly in line with Trump's electoral promises," NUST Islamabad School of Sciences and Humanities Principal and Dean Ashfaque Hasan Khan told The Express Tribune on Friday.

One way or the other, the policy initiative is going to impact China, the largest steel producer and exporter in the world. Since Pakistan has massively redirected its economic reliance on China from the US, it may suffer as a consequence of a trade war between the two, he said.


Global trade war: costs and consequences


Despite not being a leading steel exporter to the US, China is strongly believed to retaliate against the protectionist policy as it has done in the past.

Leading steel exporters to the US include Canada, the EU, South Korea, Brazil, Russia, Taiwan and Turkey.

Khan said "the (Trump's) initiative will have almost no impact on Pakistan…it stands nowhere among those 100-110 steel exporters to the US and only makes a few billion dollars worth of textile exports which are already taxed by the US."

Analysts are divided whether the steel exporting nations would dump their products in Pakistan after the US duties. They stated that Pakistan has already imposed anti-dumping duties on steel imports to protect its industry.

"Trump's move will (however) initiate a global trade war which will slow down world economic growth," Khan added.

Another analyst said the consequences could be more extreme including an increase in the cost of doing business globally, increased inflationary pressure on world economies, increase in key policy rates by central banks making lending to the private sector expensive and so on and so forth.

He said the protectionist policy may make it tougher for Pakistani professionals to find jobs in the US while those already working may find their jobs being threatened by US nationals. He said China has continued to lend dollars to Pakistan due to depleting foreign exchange reserves and widening of current account and trade deficits.

On the other hand, the US has already stopped reimbursing Pakistan for its expenditure on the war against terrorism by stopping payments under the Coalition Support Fund (CSF).

Last week, the US succeeded in putting Pakistan on the FATF's terror financing watch list from June and warned of blacklisting in case it fails to submit an action plan for dealing with terrorists with an iron hand.

Placement on the watch list is largely being seen as politically motivated since China and Pakistan have strengthened economic ties under the ongoing China-Pakistan Economic Corridor (CPEC), analysts said. Another analyst recalled that the US did not reduce duties on textile imports from Pakistan like the European Union did under the GSP Plus status.

The likely global trade war may see some of the US's closest allies making harsh moves in response to the new protectionist measures. Some of them have already launched protest against the protectionist policy.

Published in The Express Tribune, March 4th, 2018.

Like Business on Facebook, follow @TribuneBiz on Twitter to stay informed and join in the conversation.