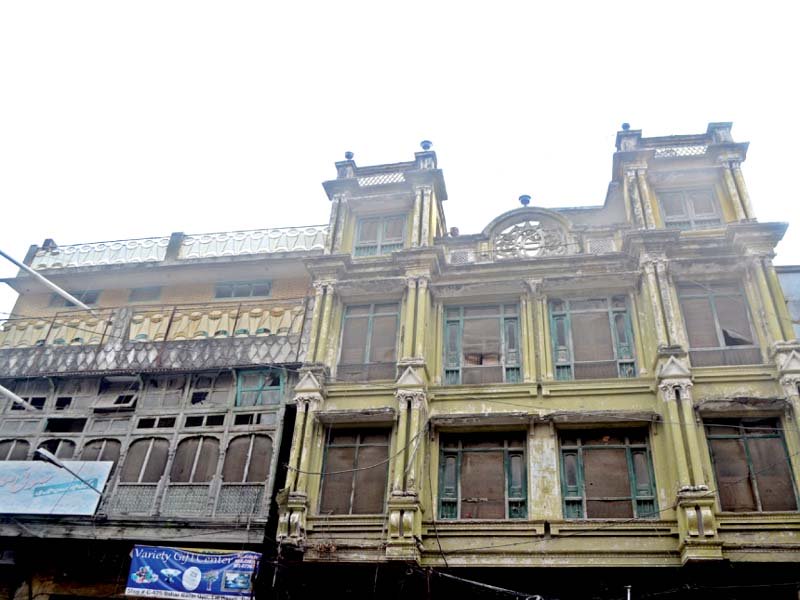 ---
RAWALPINDI: The garrison town was once a testament to the glory of the British Empire. Some of the buildings here were housing British Army officers and their families who dwelt in these over two hundred buildings and from where they ventured forth into the Northern Territories and beyond into Afghanistan to wrest control from the natives and establish control and expand Victoria's realm

Alas it is now an era gone by leaving in its wake a row of derelict and dilapidated buildings forgotten by time,neglected by man and eroded by the vagaries of the weather.

Illegal building: RDA demolishes Golden Tower

The occupants of these pre-partition days buildings are not interested in repair their premises  Negligence is also being shown from Rawalpindi Cantonment Board (RCB) and the municipal corporation, which seem to be disinterested in demolishing these dilapidated structures or declaring them unfit for public use.

A list of such structures is officially updated by the authorities. In addition, notices are also sent to their occupants and their reports submitted to higher authorities. But all that effort ends in vain when no real action is taken and the settlements continue to risk lives of their occupants.

The Building Municipal Corporation has 145 such buildings in its jurisdiction, while 49 other buildings come under the radar of RCB Forty one such buildings which have been declared hazardous continue to operate as commercial centres

According to current rules and regulations, buildings that have outlived their usefulness must either be demolished or renovated by their owners.




The renovation must take place under supervision of a structural engineer who after thorough inspection must submit a certificate to relevant authorities assuring extension of the building's life.

Sources in cantonment board and municipal corporation claim that actions against such buildings are periodically taken but the authorities cannot forcefully vacate any settlement.

Pakistan's crumbling architectural heritage

However, building construction experts say that a building once marked for demolition can only be allowed to exist if proper clearance is obtained from a structural engineer after thorough inspect and renovation. According to Building Code, buildings nearing demolition are permitted a certain time for their renovation. The owners are required to clear and obtain NoC within the designated time failing which the authorities must demolish the building in such a manner that no damage is occurs to nearby settlements or adjacent structures.

Of all classified under demolition category, 34 buildings belong to Bohar Bazar, eight are in Waris Khan, 13 in Syed Puri Gate, 17 in Chin Chiragh, three in Dhoog Ritta, four in College Road, three in Purana Qilla, three in Mochi Bazar, nine in Londa Bazar, eight in Chitiyan Hatiyan, 18 in Naseerabad Cantt, six in Qasimabad, five in Illahbad, three in Tariqabad, three in Gulistan Colony and several others.

Published in The Express Tribune, March 4th, 2018.