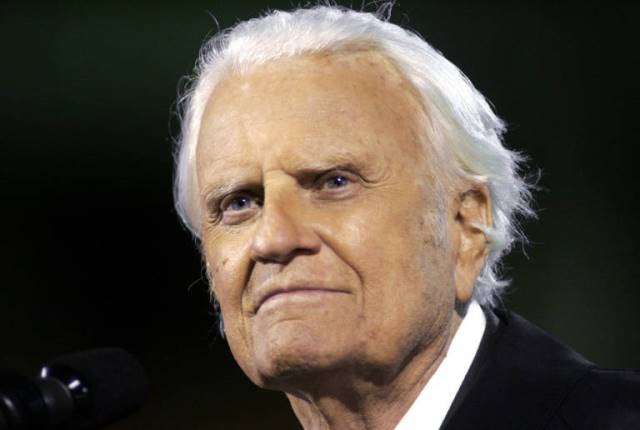 ---
CHARLOTTE: The late Reverend Billy Graham, spearhead of an evangelical Christian movement that touched millions worldwide and who provided spiritual counsel to several US presidents, returned to his North Carolina home for good on Friday.

President Donald Trump and Vice President Mike Pence are attending the noon (1700 GMT) funeral, a private ceremony including some 2,000 mourners who gathered to say goodbye to the man who became known as "America's pastor."

The ceremony will take place at the Billy Graham Library on the family's property in Charlotte, under a broad white tent that harkens back to the "canvas cathedral" in 1949 that helped propel Graham to prominence.

US presidents lead tributes to 'America's pastor' Billy Graham

"It was Mr Graham's explicit intent that his funeral service reflect and reinforce the Gospel message he preached for more than 60 years," Mark DeMoss, spokesman for the Billy Graham Evangelistic Association, said on the group's website.

Graham, who preached to millions of faithful face to face over his decades-long career and tens of millions more through the power of television, died last week at age 99, leaving a Christian evangelist movement without its best known champion of modern times.

Graham was bestowed the rare tribute of laying in honour in the US Capitol's Rotunda for two days this week when Trump praised him as "an ambassador for Christ who reminded the world of the power of prayer and the gift of God's grace."

Pakistan, US not going to war, claims Trump close aide

The bulk of official Washington — including Trump, Pence, half a dozen cabinet members and many of the 535 lawmakers in Congress — were in attendance, alongside Graham's relatives.

Graham will be laid to rest next to his late wife Ruth, at the foot of a cross-shaped brick walkway in the library's prayer garden.

He will be buried in a simple but elegant plywood casket that was constructed by inmates at a Louisiana prison. Their names are burned into the pine wood.
COMMENTS
Comments are moderated and generally will be posted if they are on-topic and not abusive.
For more information, please see our Comments FAQ