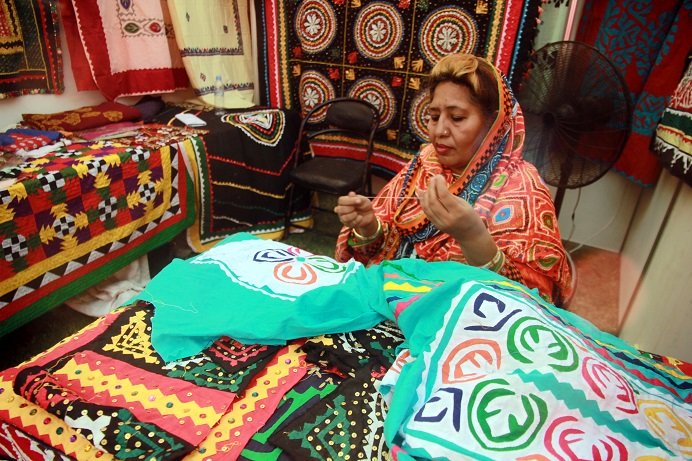 ---
KARACHI: A ralli (quilt) with a price tag of Rs2 million was the centre of attraction for a majority of the visitors and exhibitors on Friday, the first day of the Sindh Craft Festival, at the National Museum of Pakistan.

Soonji, a handicraft seller in his 60s from a small village near Mithi, said his wife made the handicraft with pure silk imported from Bangladesh, which is rarely found nowadays.

The three-day grand exhibition of ralli, Sindhi topi and gaj was inaugurated by Culture, Tourism and Antiquities Minister Sardar Ali Shah alongside the consul-generals of Italy, the United Arab Emirates, Bahrain, China and Switzerland.

Shah said that due to the previous festivals held to promote Sindh's handicrafts, the United Nations Educational, Scientific and Cultural Organisation declared ralli as the craft of the year on its website.
According to him, handicrafts and artefacts help create harmony among different cultures. He said such platforms help indigenous artisans market their products. "It's the government's responsibility to not let the work of these artisans die and appreciate the laborious work needed to create handicrafts," he said.

Karachi Eat 2018: All you need to know about the big festival this weekend

"The festival will preserve the artists' work, help create revenue for them and boost cultural activities," Shah remarked.

Prisons Minister Ziaul Hassan Lanjar, appreciating the festival, said arranging such an activity to promote artisans, handicrafts and Sindh's culture was a great effort being made by the ministry.

Artisans dedicate their entire lives to preparing masterpieces, but their work is never appreciated in urban centres, such as Karachi, he said. "However, these activities will certainly bring the handicrafts of Sindh in the limelight,"said Lanjar.

As many as 55 free of charge stalls were set up at the festival, where handicrafts, especially ralli, Sindhi topi and gaj from all the districts of Sindh from Ghotki to Tharparkar were on display.

Atiya Khoso, one of the exhibitors from Sukkur, was promoting rallies at one of the stalls. Talking to The Express Tribune, she said that they have modernised rallis by making bedroom sets with bedroom sheets, pillow covers and cushion covers.

Karachi Eat 2018: The good, the bad and the delicious

"My love for Sindh's heritage and love for colour has compelled me to design and generate ideas of rallis and handicrafts," she said.

Sindhi gaj and topi from different parts of Sindh were also on display alongside pottery work and souvenirs which were for sale. The festival also featured performances by Sindhi folk artists.

The exhibition ends tomorrow (Sunday).