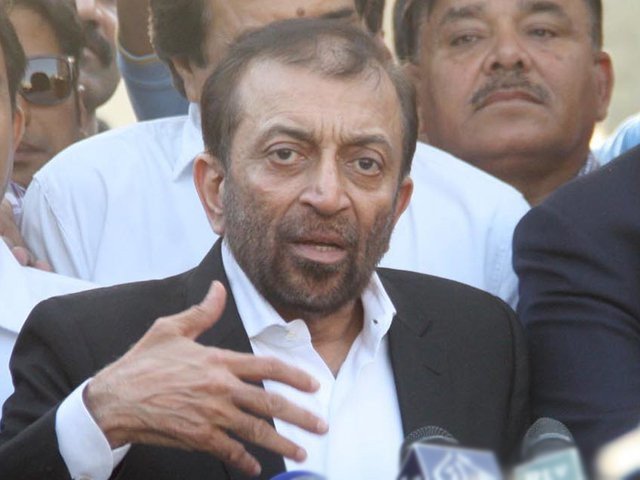 ---
Muttahida Qaumi Movement (MQM) chief from the PIB group Farooq Sattar announced his party's support for Pakistan Muslim League-Nawaz's (PML-N) Mushahid Hussain, who is vying for the seat of the technocrat in the March 3 Senate elections.

Earlier on Friday, a four-member delegation under the leadership of Sattar met PML-N representatives on Friday to discuss upcoming Senate elections.

Following the meeting, Sattar along with Hussain addressed the media, extending his support to the PML-N candidate, adding that PML-N's Asad Junejo should also expect the best from MQM.

"A vote should only be a vote, there shouldn't be any note with it," Sattar said, while commenting on reports of horse trading in the upcoming Senate elections.

MQM-P factions bury the hatchet, to contest Senate polls together: sources

"MQM's real playing field is Sindh, so anyone who is voting from Sindh should give foremost important to the party's policy," the MQM leader said, adding anyone found violating the policy will be dealt with accordingly to the party's by-laws.

"We will announce a national agenda after Senate elections if other political parties cooperate," he added.

Sattar said he wanted people to know that he is not supporting the PML-N leader because of his position in the government as Hussain has once served the Senate Standing Committee on Defence and the China-Pakistan Economic Corridor (CPEC).

"I don't want anyone to think I am supporting Mushahid Hussain because I want the Chinese visa," Sattar said, adding that MQM supports CPEC because it is a national project so why would the party not support anyone who is working on CPEC.

The MQM leader jokingly said Hussain may as well be an independent candidate and perhaps, those vying for Senate seats from MQM would identify as independent as well.

Making remarks at the infighting in MQM, Sattar took a jibe at his opposition from MQM's Bahadurabad group and said, "Who knows, maybe Mushahid Hussain will join MQM later and form a new MQM PML-N chapter, and declare himself to be its head as it is a trend these days."

Senate elections 2018 will be held on March 3. However, MQM's infighting continues as the party's nominees are going to vie for seats in the house as independent candidates according to the orders of Election Commission of Pakistan.
COMMENTS
Comments are moderated and generally will be posted if they are on-topic and not abusive.
For more information, please see our Comments FAQ