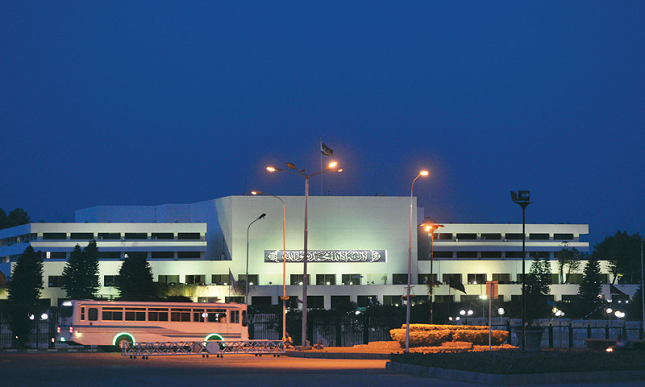 ---
Preparations for Senate elections have been completed with the Election Commission of Pakistan (ECP) issuing the code of conduct for tomorrow's poll, Express News reported.

According to the schedule released by ECP, elections for all 52 Senate seats, representing the four provinces, Federally Administered Tribal Areas (FATA) and the capital city of Islamabad, will be held on March 3.

The ECP has also released a code of conduct for tomorrow's election, according to which all members of the National Assembly and members of the provincial assemblies must bring the identification cards issued to them by their Assembly Secretariat.

Rangers and Frontier Corps personnel will be deployed while all voters are required to reach polling stations through a given passage.

Explore the data: ECP releases final list of candidates for 2018 Senate election

No one would be allowed exclusive entry to the polling station and the use of mobile phone is prohibited.

Confidentiality of the ballot paper and vote must be ensured while taking any election information out of the station is strictly prohibited, the circular issues by ECP added.

Furthermore, the ECP warns of taking action against those trying to damage or manipulate ballot papers.

Those not abiding by the code of conduct may face up to two years of imprisonment and a fine up to Rs100,000, the statement added, reiterating that the ECP can use its discretion to impose any or all penalties to those breaking its rules.

The ECP has further authorised returning officers (RO) to work as magistrates during the time the poll is taking place, adding that they have the right to call off the voting or render it void if they come across any attempts to disrupt order or compromise the electoral process.

The ROs can instantly hold trials and announce penalties for any person involved in forgery or manipulation of ballot papers. The returning officers may also use their discretion to cancel any ballot paper they believe has been manipulated.

Horse trading: Imran reiterates call for direct Senate elections

Earlier on Friday, Sindh Election Commissioner Yousuf Khattak visited the provincial assembly to review its preparations ahead of the March 3 Senate elections.

Khattak was briefed on the plan and preparations, following which he expressed satisfaction, and hoped that Saturday's elections will be fair and transparent.

"The assembly administration has prepared well," he said.

The provincial election commissioner reiterated that the ECP is an independent institution and its officers will ensure that the elections are conducted according to Senate rules.

Khattak warned that those who break the rules of the voting procedure will be punished as per law.