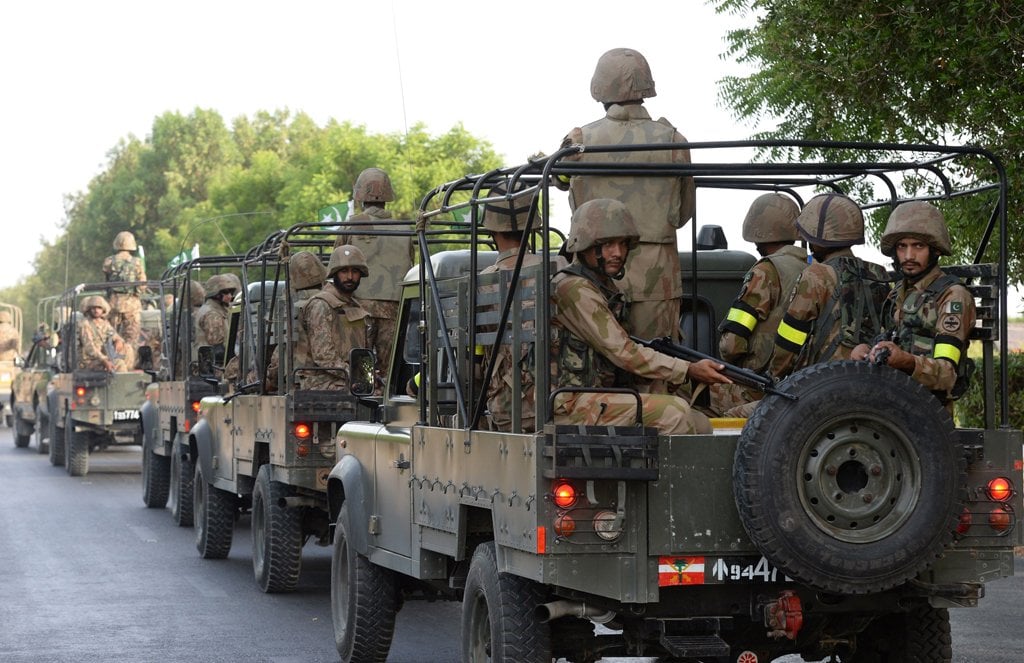 ---
KARACHI: Pakistan Armed Forces have been ranked the 13th most powerful in the world on the Global Firepower Military Strength Index 2017, according to data released by the group on its official website.

The list by Global Firepower (GFP) relies on more than 50 factors to assign the 133 countries included in the survey an individual Power Index (PI) score, based upon their conventional war-making capability across land, sea and air.

Taking into account the diversity of weapons possessed by each nation, the published results include values related to the resources, finances and the particular geographical position of each country.

Each military power is judged on individual as well as collective factors. The method used for calculating the final power index score has not been made public, although the official website of GFP outlines that "our formula allows smaller, more technologically advanced countries, to compete with larger, lesser developed ones".

Pakistan military ranked 11th strongest in world

The GFP has cautioned that the PI score should be viewed in the context of certain basic assumptions that were made before it was calculated.

For example, the score does not rely on the "number of weapons each nation has, but on their relative diversity", nuclear stockpiles are "not taken into account but recognised in the form of bonus points", geographical factors and manpower are "key considerations" in the final score, landlocked nations are "not docked points for lack of naval forces", and political and military leadership of individual countries does not have any bearing on the PI.

As political tensions heat up the arms race across the world, a lot of countries are in the process of modernising their existing weaponry, both conventional and nuclear. According to Business Insider, between 2012 and 2016, more weapons were delivered to countries seeking them than during any five-year period since 1990. GFP aims to provide a rare military-to-military comparison of where nations stand in relation to each other, the US-based publication highlights.

"Balance is the key - a large, strong fighting force across land, sea and air backed by a resilient economy and defensible territory, along with an efficient infrastructure - such qualities are those used to round out a particular nation's total fighting strength on paper," the GFP ranking states.

Pakistan Armed Forces

The armed forces of the country have been ranked 13th out of a list of 133 countries based on their capability on land, sea and air, as well as their financial dexterity, and the size of the geographical boundaries of Pakistan with other states.

In the annual GFP review of 2017, Pakistan Armed Forces scored 0.3287, 0.000 being the perfect score in the list, on the Military Strength Power Index. Currently, the country dedicates $7 billion from its annual budget for defence purposes.

China is a powerful country but we are not a weak nation: Indian army chief

Manpower is an important part of the PI score, and GFP notes that "wars of attrition usually favour those with more manpower". Pakistan has 919,000 total military personnel, out of which 637,000 are on active duty, the GFP database reveals. With a total population of 201,995,540 people, there are approximately 95,000,000 men available for duty in the country, 75,325,000 of which are "fit-for-service".

An assessment of the air power of the country, which include "both fixed wing and rotary wing (helicopters)" types, has put the total aircraft strength of Pakistan Armed Forces at 951. The list includes aircraft from all branches of the forces. According to GFP, Pakistan has 301 fighter aircraft, 394 attack aircraft, and 316 helicopters, 52 of those which are attack choppers.

The evaluation of the strength of land forces in Pakistan classifies the number of combat tanks, armoured vehicles, and rocket projectors, among other equipment, that the military has. GFP data have put the total number of combat tanks owned by the country at 2,924. In addition to these, Pakistan has 2,828 armoured fighting vehicles and 134 rocket projectors.

Another important consideration in the total PI score is naval assets, and the GFP notes that Pakistan has a total of 197 naval assets, of which 17 are patrol crafts, eight are submarines, and 10 frigates.

Indian Armed Forces

The armed forces of arch-rival India are ranked 4th on the Power Index, with a score of 0.1593. According to the GFP, India currently spends $51 billion from its annual budget on the military, which is almost seven times more than what Pakistan does.

Pakistan has done enough for everyone, will not do more: DG ISPR

With a population more than 5 times that of Pakistan, it has 4,207,250 total military personnel, and 1,362,500 are on active duty. Compared to Pakistan's 951, India has 2,102 total aircraft; 676 interceptors, 809 attack aircraft, and 666 helicopters. India also has double the number of battle tanks, armoured vehicles, naval assets, submarines included, as compared to Pakistan.

Most powerful military in the world

The United States military has been ranked the most powerful armed force in the world, closely followed by Russia and China.

US has a PI score of 0.0857, Russia comes in second on the list with 0.929, and China is third with 0.0945. The US spends almost $600 billion annually on defence, while China spends close to $161 billion. The Russian Federation, surprisingly, only spends about $45 billion on its armed forces.

In terms of total military personnel, China beats US and Russia. The rising superpower has a total military strength of 3,712,500, compared to 3,371,027 of Russia and 2,363,675 of the US.

'Nuclear bluff' assertion speaks of Indian army chief's immaturity, says ISPR

Another astonishing statistic highlights the wide disparity in the aerial strength of world countries on the list, wherein the US, according to GFP, is revealed as possessing an astounding 13,762 aircraft, 6,065 of which are helicopters. Russia has a total of 3,794 aircraft, while China only 2,955.

When it comes to land forces, Russia beats its rivals in terms of military equipment. Russia owns close to 20,216 combat tanks, 31,098 armoured vehicles. The US, on the other hand, only has around 5,000 combat tanks, but 41,062 armoured fighting vehicles. China, compared to both, has only 6,457 combat tanks and 4,788 armoured vehicles.

Naval assets, increasingly viewed as the 'strength benchmark' of a nation's armed forces, are also indicative of the global clout of US, Russia and China. In terms of overall numbers, the assets of all three countries are not all that different from each other. However, the US has 19 aircraft carriers, and Russia and China each have just one.
COMMENTS (7)
Comments are moderated and generally will be posted if they are on-topic and not abusive.
For more information, please see our Comments FAQ