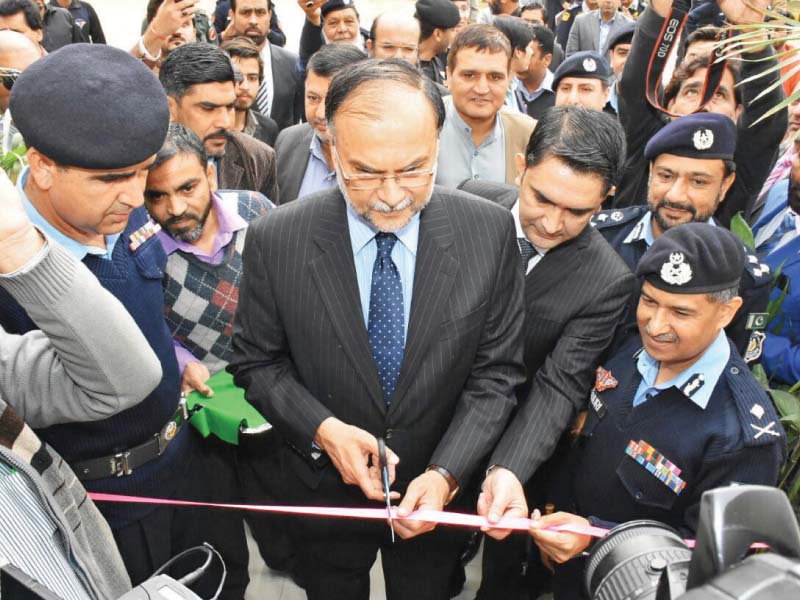 ---
ISLAMABAD: In an era dominated by technology, the police must familiarize with modern techniques and evolve with the world.

This was stated by Interior Minister Ahsan Iqbal as he inaugurated a model police station — the upgraded Secretariat police station.

"New technology is changing this world, and there is a need to adjust our attitudes in accordance with this development," Iqbal said.

He emphasised the importance of leadership courses for heads of all police stations and stated that protection and assistance for aggrieved people such as women, children, minorities and other marginalised segments of society should be of primary importance.

"All are equal before the law whether they are societally powerful or not. There should be no discrimination in how they are treated," the minister said.

Suggesting the use of resourceful policing strategies, Iqbal assured that Islamabad Police will turn into an exemplary force for others.

Elaborating on the challenges faced by the country, he urged citizens to support the police and make the programme effective.

Dilating on the challenges, he said while terrorism and extremism post the gravest threat, cybercrime was increasing rapidly and there is a strong need for policemen to stay alert to new threats.

The minister instructed policemen work with religious scholars to promote interfaith harmony.

Directing strict vigilance in the markets to stop people from collecting money for illegal activities, Iqbal called for a clampdown on drugs and for action against those involved in hate speeches.  He added that a database of criminals and terrorists is also being prepared.

Talking about the model police station, Iqbal said that the precinct had been equipped with a modern reporting room, investigation room, IT room, and a community policing room.

Moreover, he said that cameras should be installed in the station and an environment should be created such that citizens feel completely secure when visiting it.

"Every citizen is to be treated with the highest amount of respect," he said.

Published in The Express Tribune, March 2nd, 2018.
COMMENTS
Comments are moderated and generally will be posted if they are on-topic and not abusive.
For more information, please see our Comments FAQ