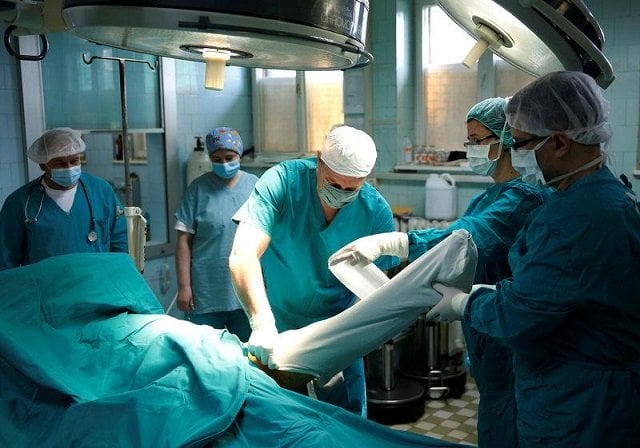 ---
LAHORE: As the clock struck midnight at Lady Wellington Hospital, a 23-year-old expectant mother was brought to the medical facility with severe labour pains. She was immediately rushed into the operation theatre where doctors, after two hours of exhaustive efforts, managed to save her life.

Unfortunately, the child who was to be the latest addition to her family was lost in the process. In fact, the woman would never be a mother again.

After implant surgery: Septuagenarian man recovers sight

Dr. Wajiha Nadeem, who operated on the woman, told The Express Tribune that "These are frequent cases. Actually, quacks are playing with the lives of people. The mortality rate of patients is too high."

Expressing her utter dismay over the fact that unqualified medics were allowed to continue practicing, the doctor pointed out that surgical malpractice can lead to the intestine getting cut and cause bladder damage. She added this results in the patient losing her reproductive capabilities and many can never be mothers again. Dr Nadeem claimed that almost all the cases of women referred to the hospital in this condition were a result of quackery.

Family Planning Association of Pakistan Director Sarfaraz Kazmi, while talking to The Express Tribune, stated more than 40% of people still prefer midwives, homeopaths, hakeems and untrained medics to look after their health. He said though concrete data was not available to provide an exact figure of how many women become victims of these quacks, the extent of the business showed that it maintained deep, menacing roots.

"The ugly truth is that many doctors have allowed quacks to use their names in exchange for small amounts of money," he pointed out. "It is necessary to increase the resources of the Public Healthcare Commission (PHC) so that they can eliminate quackery from society," he added. The director said this was an alarming situation for maternal and child healthcare in the country.

A Punjab Healthcare Commission spokesman agreed with the notion. Talking to The Express Tribune, he agreed that many gyneacology centres of quacks had become functional again due to the alleged involvement of some people from the medical community.

Defining the modus operandi of these unqualified practitioners, he said even if PHC closed their dens or imposed fines, they would come to the commission's office with qualified doctors who would claim the clinics as their own. He added that as a result, PHC's case was weakened and it had to grant permission to reopen the clinics.

"This practice is continuing around Punjab, especially low lying areas of the centre," he complained. "Without political will, the menace cannot be eliminated."

Dr. Salman Kazmi, actively participating in an anti-quackery campaign with PHC, stated that the law was very weak. He said PHC took action against quacks under civil laws and imposed fines of between Rs40,000 and Rs100,000. The relatively small amounts allowed these practitioners to reopen their clinics.

Indian surgeons remove 'heaviest recorded' brain tumour

Kazmi suggested the PHC law should come under criminal proceedings so fines of up to Rs0.5 million could imposed, along with imprisoning the culprits for a year. "The area police also should be taken onboard and the local SHO must be told that he would be suspended if the dens reopened," he suggested. Dr Kazmi said if the PHC laws could be amended, there would be no way that the quacks would be able to reopen their clinics.

"Since last two years, they have closed down 7,500 clinics around Punjab and most of them have become functional again. This is a dilemma and raises question marks over the efficiency of PHC's working," he continued. "The PHC law should be more powerful for the sake of our mothers and children," he concluded.

Published in The Express Tribune, March 2nd, 2018.
COMMENTS
Comments are moderated and generally will be posted if they are on-topic and not abusive.
For more information, please see our Comments FAQ