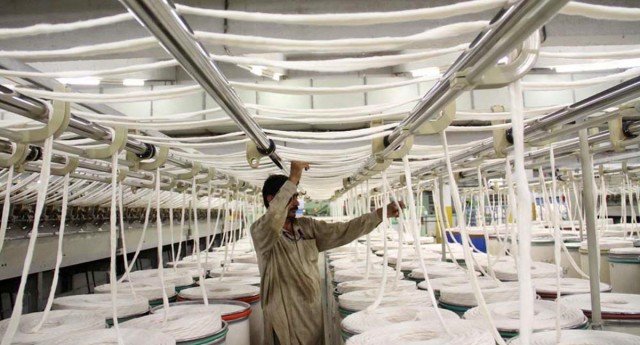 ---
KARACHI: Textile exports increased seven per cent to Rs8,462 million this year as the sector benefited from the rupeedollar depreciation of around 3.2 per cent.

Raw cotton exports led the sector registering an increase of 140 per cent for the first ten months of fiscal 2010 against the same period last year. . Blended and cotton yarns followed with 104 per cent and 32 per cent increase respectively. Cotton supply in the domestic market has recently improved in the country as India lifted the ban on raw cotton exports last week, said BMA Capital analyst Sana Bawani. Pakistan imports most of its cotton requirements from India.

Both local and international cotton prices declined as India lifted the ban on its raw cotton exports on May 21. India had suspended its raw cotton exports on April 19 after their textile mills blamed large-scale shipments for a sharp rise in prices and nonavailability of the commodity in the local market, analyst said in her research report. However, with the start of the new season it allowed exports of the crop with effect from May 21 and has made licenses mandatory for shipments.

The immediate impact of this news was a decline in the local spot prices from Rs6,800 per maund to Rs 6,300 per maund. Similarly, both New York futures and the A Index are back to the levels prior to India's suspension of exports at 82 cents per lb and 91 cents per lb respectively for July contract. The government aims to produce 14 million bales of cotton during the next season 2010-11 compared to 12.7 million bales produced in the current season 2009-10.

Introduction of insect resistant Bt cotton varieties and increase in cotton acreage across the country is expected to enhance crop yield over the next year. In addition the world cotton production is also expected to increase to 114 million bales in 2010-11 from 112 million bales in the previous season with a continued uptrend in cotton consumption. However, the ongoing trouble in the eurozone signals a potential threat to the local exporters of the textile products.

Published in the Express Tribune, May 28th, 2010.
COMMENTS (1)
Comments are moderated and generally will be posted if they are on-topic and not abusive.
For more information, please see our Comments FAQ