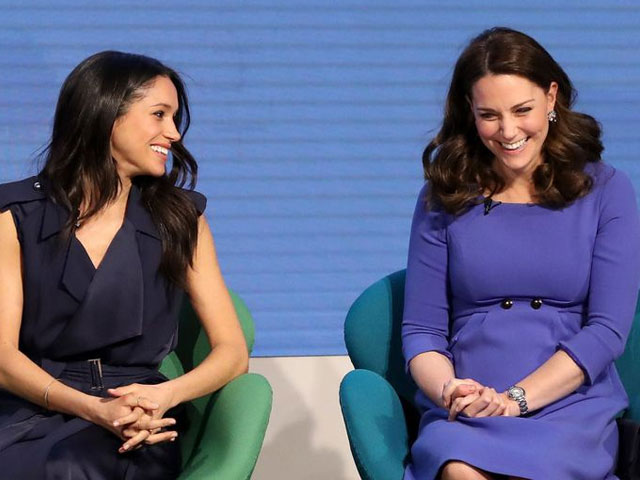 ---
Meghan Markle and Kate Middleton made their first official appearance together - with their significant others.

According to Women's Health magazine, the two were present at the first annual Royal Foundation Forum with Prince Harry and Prince William. The couples discussed the charitable work they have done so far and their future plans for the same.




The Royal ladies wore matching blue outfits. Markle sported a navy blue dress by Jason Wu, whereas Middleton went for a light blue maternity dress from Seraphine.

Earlier, Markle and Middleton were pictured together during Christmas. Even though there has never been enough proof of the friendliness between the two royalties, Markle confirmed in her post-engagement interview that Middleton has been a "wonderful" support in helping her adjust to the royal life.

To evaluate their relationship, body language expert Judi James was asked to analyse their on-stage interactions. James explained that their expressions showed that there was a strong family vibe between both the couples. Markle and Middleton displayed a "team member" kind of respect for each other but also avoided any avert displays of sisterly affection. James added, "Markle's main attention was her fiance but she sat listening intently when Middleton spoke."




James also pointed out that the women have a different approach when it comes to royal duties. She explained, "Markle's approach is hugely 'hit-the-ground-running' with her upright posture. Her trait of sitting with one elbow in partial splay mode suggesting high levels of confidence and a desire to get her message across."

Adding further, James claimed, "Middleton's calmer, simpler approach, sitting back in her chair with a rather demure hand clasp gave a glimpse of what being a royal must have taught her - which is that people listen anyway with no need to ramp up the passion and drama."




Middleton and Markle seemed to have a special bond centering their cause and Prince Harry's humour. While the Prince joked, the women shared matching smiles, mirroring the hand covering the face gesture. However, when talks about couple disagreements started, the two hid their face behind their hair. At this point, Markle grabbed Prince Harry's arm, while Prince William's "Oh, yes" suggested that the couple has had their fair share of disagreements. Nevertheless, Middleton's smile never revealed who won the battles and who didn't.

Have something to add to the story? Share in the comments below.
COMMENTS (2)
Comments are moderated and generally will be posted if they are on-topic and not abusive.
For more information, please see our Comments FAQ