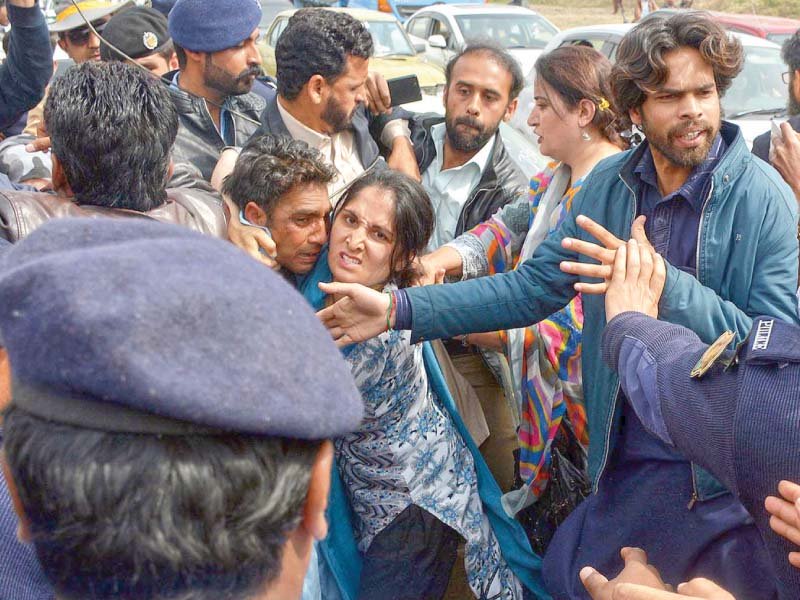 ---
ISLAMABAD: There was chaos at the peaceful protest of hundreds of daily wage teachers which has been going on for over the past 50 days when the police dragged and detained them briefly for blocking Kashmir Highway at G-9 Chowk on Wednesday, but later let them go.

The protestors were enraged when police brutally dragged a woman representative of teachers to haul her into the police vehicle. However, the protesting teachers confronted the police and prevented her arrest, although some other protestors were taken into custody.

The contractual teaching and non-teaching staffers of various schools and colleges working on daily wage basis have been on strike and protesting since January 9, at different venues to demand the release of their salaries that has remained unpaid for the past nine months.

Heavy contingent of police was called to negotiate and clear the road. On refusal the police dragged a female teachers' representative, Rabia Waheed, trying to detain her in a police van.  The protesters did not make it happen but male teachers were briefly detained into police vehicles.

About 10 teachers were detained for nearly half-an-hour but later released. They female teachers sat on the road and did not allow the police van to move. The pushing and shoving made the female teachers weep and causing some male teachers to lose consciousness.

Member of National Assembly Ayesha Gulalai alleged that CADD Minister Tariq Fazal Chaudhry wants to recruit his cronies therefore the appointment of teachers was being delayed.

PTI MNA Asad Umer also in a statement condemned the manhandling of the teachers for demanding their pending salaries. On the mediation of Acting Commissioner Mushtaq Ahmad, the representatives of teachers met with Chaudhry and unblocked the  road after about six hours.

The minister blamed the last Pakistan Peoples' Party government for creating this issue saying his government got regularisation issue in dowry.

He told the teachers their salary from June to December 2017 has been approved, meaning they would have to block roads again to get the salary of this year too.

But the minister refused to give any assurance in writing to resolve regularisation issue as demanded by the protesters. Upon which they did not call off the protest.

At night the teachers left the protesting site gradually saying they will wait for the next 15 days and would not block any road.

Published in The Express Tribune, March 1st, 2018.
COMMENTS
Comments are moderated and generally will be posted if they are on-topic and not abusive.
For more information, please see our Comments FAQ