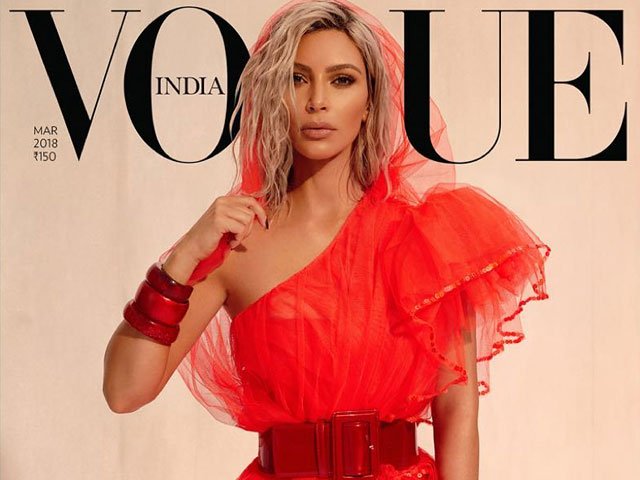 ---
Kim Kardashian West is all about making headlines and then some and seems like she's got another 'controversial feather' up her hat.

The social media darling exhibited her love for 'desi' attire and Indian jewellery by featuring on the latest cover of Vogue India. She hopes to come to India soon with her reality show Keeping Up with the Kardasians. 

Kim Kardashian channels her inner Bollywood 'dulhan' for 'Vogue India'

Just as Vogue India shared the much awaited edition, Twitterati went crazy, calling out to the publication about how they couldn't find a single Indian model to portray the real essence of India.


India has Rekha, Priyanka Chopra, and Aishwarya Rai and they get Kim Kardashian? Vogue India is truly trash and over for not acknowledging brown beauty.

— 🥀 (@dornanjohnsonn) February 27, 2018
why would Vogue India put Kim Kardashian on their cover when Deepika Padukone is alive and well

— maybe: God (@champagneswathi) February 27, 2018


https://twitter.com/cleopavitra/status/968485242049675264

https://twitter.com/nxvyaa/status/968366405304377346

https://twitter.com/selmilasgrande/status/968615453391237120

https://twitter.com/krishnaapuri/status/968416700671565824

https://twitter.com/fariiihaa/status/968349900252569600

https://twitter.com/MehakNadeem_/status/968616564483379200


But some users are defending the magazine's choice to feature her on the cover.


https://twitter.com/rihrobfenty/status/968393486989955072


so vogue india featured kim kardashian for the march issue and that's a big deal? how petty can some of you brown people be?

— naveeny (@BNaveeny) February 28, 2018


https://twitter.com/humandurag/status/968486741987483650

https://twitter.com/r0yalmisfit/status/968711993757782017


It's 2pm and I've already read 20 "why did Vogue India use Kim Kardashian instead of a desi woman?" tweets, why are so many brown girls getting pressed like they were personally robbed of a modelling job? 😂

— t 🌙 (@mlkytee) February 27, 2018
Y'all acting like Vogue India renamed the damn magazine to "Vogue Kim Kardashian". Get off her meat, she looks good af

— Myleeza (@MyleezaKardash) February 27, 2018
To all those who say Vogue India doesn't select Indian women as cover girls, please google Vogue India before making a mountain out of a molehill.#VogueIndia #KimKardashian @VOGUEIndia pic.twitter.com/kuJa3WNTcp

— JustSaying (@JustMyOpinion65) February 27, 2018
Vogue India experienced similar backlash when Kendall Jenner appeared on the magazine's May 2017 cover. At the time, publication released a statement on Instagram defending its position, saying in part, "In the last 10 years, Vogue India has had only 12 international covers, including Kendall Jenner, in 2017. Therefore, statistically, 90 per cent [sic] of our covers are Indian! And we are proud of that," it read.
Kendall Jenner and Sushant Singh Rajput's photoshoot for Vogue India stirs controversy
Kardashian has not yet commented on the controversy, but in the interview she spoke about the success of Keeping Up With the Kardashians and revealed what she liked most about each of her family members — including her "perfect" mom, Kris Jenner.
"The saris, the jewelry, the clothes — everything was so beautiful!" she said about the shoot.
What do you think about the whole thing?
Have something to add to the story? Share it in the comments below. 
COMMENTS
Comments are moderated and generally will be posted if they are on-topic and not abusive.
For more information, please see our Comments FAQ