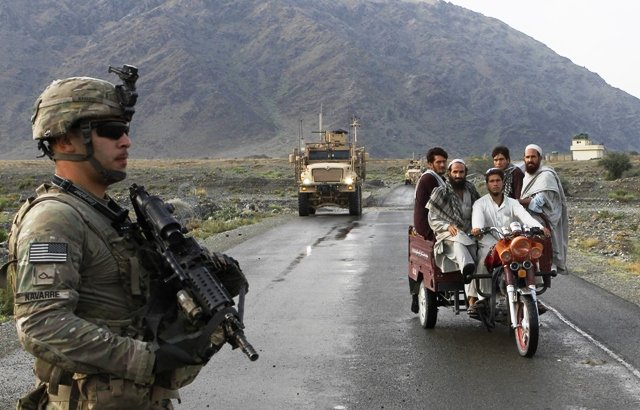 ---
The US pressure on Pakistan that it should cut links to Afghan and Indian-oriented militants remains unabated. Not only that all US assistance has been suspended but it takes a leading role in ensuring that Pakistan is placed on the grey list of nations by the Financial Action Task Force (FATF) for not undertaking sufficient measures to curb terrorism financing. This punitive measure was initiated despite Pakistan's last-minute efforts to fully comply with the FATF regulations by banning and taking over all assets of Lashkar-e-Taiba and its affiliates through a presidential ordinance.

Equally unsettling is that earnest attempts by Pakistan to build trust with the Afghan government have so far failed to yield results.

More troubling is the reality that it is difficult to decipher what exactly is the goal of America in Afghanistan. President Trump has indicated that his country's troops would stay in Afghanistan as long as it deems fit giving an impression that it is not in a hurry or no fixed datelines as Obama had given. This policy apparently is to give confidence to the Afghan government and its people and put pressure on the Taliban. Moreover, President Trump has adopted an offensive posture contrary to the defensive and reactive policy of his predecessor. The major difference is increased deployment of special forces and intensification of air power. Apparently the assumption is that air power will play a decisive role in bringing the Taliban to their knees. The current policy probably aims at replicating what had happened in 2001 when the Taliban suffered heavy losses and retreated. But will this intensification of military muscle make any difference this time? If we look at the ground situation, it is not very promising as reliable sources indicate only 50% to 60% of area is under control of the Afghan government. The Taliban's influence is primarily in rural areas with local warlords also retaining a stronghold in some districts.

Nonetheless, President Trump has been saying that we will beat the Taliban to submission and is in no mood to negotiate. Astute observers of the Afghan situation believe that the US would only negotiate from a position of strength, implying when 70% to 80% of Afghan territory is in government control. Is this ambitious figure attainable is a big question mark. No doubt, the US has the staying power even if it is restricted to main cities. By not engaging directly in conflict their casualties have been minimal in recent months, further reinforcing their resolve to remain. But the Taliban's staying power is even greater and that has been proven time and again. If the US intensifies conflict they would melt away in the countryside only to make a comeback at an opportune time. Moreover, buying for more time after 17 years of brutal conflict seems unsound. Foreseeing all this Pakistan has been advocating political dialogue and engagement as the best course.

There are other factors that will influence the Afghan outcome. If Pakistan is pushed to the wall its ability to cooperate with the US will recede, not improve. Paradoxically, the US is extremely impatient with Pakistan but in sharp contrast its own policy is to wait out the prolonged Afghan conflict.

Adversarial relations between the US and Russia are also not helpful in the context of Afghanistan's stability. Furthermore, if President Trump decides to revoke the Iranian nuclear deal it could tempt Iran into supporting anti-American forces in Afghanistan.

At present the US priority is on the military domination of Afghanistan. There is scant interest in political development of the country or political engagement with the Taliban. Apparently, the rationale is to create a favourable military environment and then engage from a position of strength. The US or the Afghan government has proposed no specific peace plan but it is believed there is not much that they are prepared to concede. A few governorships and minor ministries could be offered. Trivial changes to the constitution to make it more Islamic may be possible. These proposals have been discussed in track two meetings and probably suggested informally to the Taliban leadership, which they seem unwilling to accept.

Another hindrance is that after the death of Mullah Omar and Mullah Mansoor, the Shura has lost the grip that it had over its followers. For any Taliban leader to negotiate a peace deal and ensure its compliance would be relatively difficult. Essentially, they have to reconcile among themselves to be able to push a peace deal and have it broadly accepted by the rank and file. Then there is a strong element among the younger Taliban leadership that believes a military victory is feasible.

The Taliban leadership should not overlook the grim reality that even if the Afghan government collapses militarily and politically it would not end the country's woes. In all probability, Afghanistan will end up with several power centres and deeply fragmented. As it is, tension between Tajiks and Uzbeks has increased in recent months raising the spectre of further turmoil.

It is these multiple factors that reinforce Pakistan's position that greater emphasis should be laid on political engagement of warring factions. These are worrisome outcomes for Afghan neighbours and no country would be affected more than Pakistan if the situation deteriorates further. In these circumstances the best course for Afghanistan and Pakistan is to cooperate and stop blaming and undermining each other. Regional support and regional solutions are the way forward. What gives hope that despite difficult times Afghans have never spoken in terms of national identities! They are Afghans first and Afghans last. Every nationality is united when it comes to the concept of Afghanistan's identity.

It is also true that Afghanistan despite the heavy toll of civil war has significantly changed for the better in many ways. There is certainly greater emphasis on education and one finds a different worldview of the younger generation. All they need is to find a way out for finding peace internally. That will not happen by blaming Pakistan or others but engaging sincerely among themselves.

Published in The Express Tribune, February 28th, 2018.

Like Opinion & Editorial on Facebook, follow @ETOpEd on Twitter to receive all updates on all our daily pieces.


COMMENTS (2)
Comments are moderated and generally will be posted if they are on-topic and not abusive.
For more information, please see our Comments FAQ