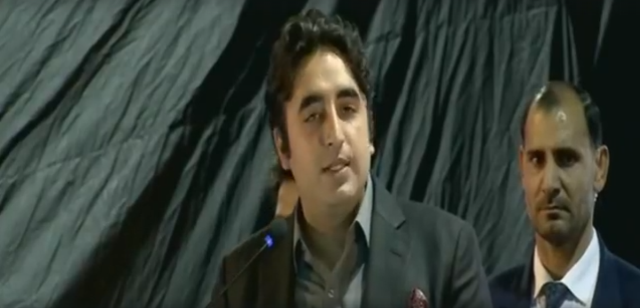 ---
[fbvideo link="https://www.facebook.com/etribune/videos/2222301321120215/"][/fbvideo]

Pakistan Peoples Party (PPP) Chairman Bilawal Bhutto-Zardari urged the national leaders on Monday to work towards ending glorification of violence in the society.

It's about time we need to stop glorifying violence, the PPP chief said while addressing an event organised at Karachi's Expo Centre in connection with the Asia Peace Film Festival.

Bilawal emphasised importance of diversity in order to counter terrorism which, he said, has managed to instill fear among the masses.

"A country like Pakistan has lost so much to the increasing terrorism in the world," he said. "Promote cinema [can be helpful] for peace."

The PPP leader said that all segments of the society deserve the right of diversification to strengthen our ideological position against terror.

He added, "Youth is unfortunately at the forefront of violent conflicts as more and more young people are being conditioned to idealize the forces of death and terror."

Terrorism, extremism not limited to the Muslim world: Bilawal Bhutto

He continued that in such a situation, one instrumental factor can be to portray the real truth about life, humanity, compassion, justice and the truth of themselves.

"I am determined to claim art with culture and reignite the flame of creativity and cultural self-expression," Bilawal said and added, "I urge all segments of society to unite, so we give our people a new direction, space to celebrate diversity."

He said, "I am confident that the Asia peace film festival is a step in the right direction. I suggest that the Sindh government take such festivals to the grass-root level, creating spaces for people cinema as an alternative."

Bilawal said he believed the initiative had the potential of mainstreaming several perspectives and experiences of diversified communities in the society.
COMMENTS (1)
Comments are moderated and generally will be posted if they are on-topic and not abusive.
For more information, please see our Comments FAQ