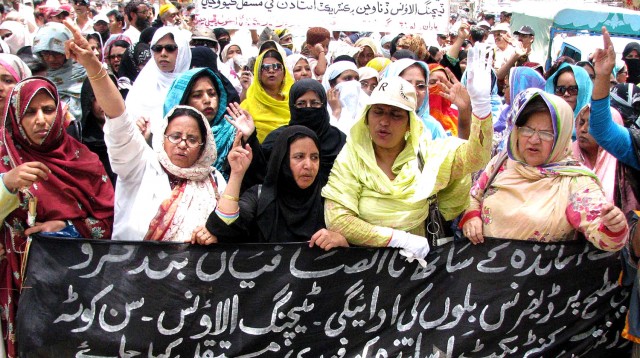 ---
HYDERABAD: School and college teachers in Sindh have been protesting for quite a few days for demands that they say the Sindh government is unwilling to meet.

For its part, however, the education minister says that the demonstrations are unwarranted as they had agreed to solutions. Amongst others, the teachers have demanded a teaching allowance, time-scale promotions according to the number of years in service, a medical allowance, the promotion of teachers from grade 17 to 18 before May 31 and permanent jobs after they sit in the entry tests. The teachers have argued that their counterparts in the other provinces were getting better treatment and the chief minister of Sindh had 'double standards' when it came to them.

However, education minister Pir Mazharul Haq told The Express Tribune that the teachers had backed out when the Sindh government offered to use the same formula as the Punjab's because its rules were stricter. "The Punjab and Khyber-Pakhtunkhuwa have strict procedures," he said. "In the Punjab the teachers have to appear for tests and only then do they qualify for etitlements. When we asked them to adopt Punjab's policy, the teachers backed out and accepted Balochistan's because it was easier for them."

In fact, said Haq, the Sindh government put teachers on the committee that decided the package. "The formula of giving them a package equal to Balochistan's was also their idea," he said. "We recognised their demands and accepted that they should get allowances, time-scale." For their part, however, the teachers took their protest to another level on Wednesday after they staged a sit-in outside the house of the Sindh Minister for Fisheries Zahid Bhurgri. They blocked Bhurgri street for more than two hours. Addressing the protesters, Khan said that the Sindh Chief Minister Qaim Ali Shah had formed a committee that had submitted its recommendations to the government.

These recommendations had been accepted by the education minister and the chief secretary who then sent a summary to the chief minister, he said. "This is a time when students are going to appear for exams but look at the teachers and their associations," said the irritated minister in reaction. "Why are the students suffering? I challenge the teachers to first attend the schools. Will they appear in training sessions and undergo a test in order to get the allowances they demand?"

Published in the Express Tribune, May 27th, 2010.
COMMENTS
Comments are moderated and generally will be posted if they are on-topic and not abusive.
For more information, please see our Comments FAQ