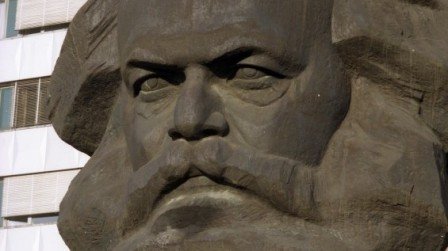 ---
A four-day short course on Marxism was offered at Irtiqa Institute of Social Sciences to mark 2018, the bicentennial year of Karl Marx's birth, as well 2017 which marked 100 years of the Russian Revolution.

The course, titled 'Understanding Marxism', started last Wednesday and culminated on Saturday. Organisers of the course included visiting researcher at Habib University Ayyaz Mallick, assistant professors at Habib University Dr Fahad Ali and Dr Noman Baig, assistant professor at Punjab University Dr Ammar Ali Jan, and activists Alya Bakhshal, Marvi Latifi and Zehra Khan.

The course included definition of Marxism, Marxist theories of class, politics and state, and understanding phenomena such as women oppression, imperialism and globalisation under Marxist framework.



Theory of hegemony

On the course's last day, Mallick stressed the understanding of Marxist theory through leading Marxist Antonio Gramsci's theory of hegemony which, according to the speaker, greatly contributed to the Marxist political theory.

How democracy's spread dashed dreams of liberalism

According to Gramsci, Marxist theory was of conscious action taking place at three levels of force, which were economic, political and military, Mallick said, adding that the role of political forces was of paramount importance in Marxist understanding of the world.

The speaker explained that interlinking the three levels of force in Gramsci's framework gave rise to hegemony, which was a social process in which a particular privileged class or group tried to assimilate underprivileged classes or groups. The objective of that assimilation was maintenance of power of the privileged class over the unprivileged ones, Mallick asserted.

According to Mallick, a hegemonic state consisted of social institutions and political institutions, including military. Such states were often not apparently coercive as they gave some concessions to the working class, the researcher said. The speaker, however, added that such states symbolised a sophisticated form of coercion, as only powerful classes ultimately benefitted in such a system. The only way to break free from the hegemonic system was to turn the subjective interests of underprivileged classes into objective interests, Mallick asserted.



Workers' alienation

Dr Jan discussed different concepts of alienation which afflicted human beings. He said that even language was a form of alienation of a subjective idea.

Marx discussed economic and social alienation of workers from their labour, Dr Jan maintained. When a worker could not buy their own created products, it created an alienation, the speaker said, giving example of farmers in Punjab who were committing suicides because of poverty. Another example of alienation, according to Dr Jan, was the case when workers' own constructed housing schemes were out of their reach.

Quest for prosperity: culture and economy

Dr Jan claimed that workers who continued to labour while they were unable to reap the fruits of it actually strengthened the system which was based on their exploitation.

Capitalist system not only worked through the use of force, but it also used ideology to sustain itself, Dr Jan said, adding that capitalist society, through the use of ideology, tried to maintain the inequality between producers and those who reaped the fruits of production. Through the ideology, workers willingly participated in their own exploitation, he said.

Dr Jan was of the view that every system generated its own contradictions. Capitalist system also generated its contradictions but it succeeded to control its contradicting factors through the tools of force and ideology, he said.

The speaker stressed that it was high time that contradictions in the capitalist system were recognised. We must realise that power of people is greater than the manipulations of the few who rule them, he said, adding that this could only happen when people united together and broke free from the shackles of ideology.

Dr Jan concluded his talk by stressing that living in the ruins of capitalism was not the only option left for humanity. There was an alternative option and Marxist ideology provided the hope for that, he summed up.
COMMENTS
Comments are moderated and generally will be posted if they are on-topic and not abusive.
For more information, please see our Comments FAQ