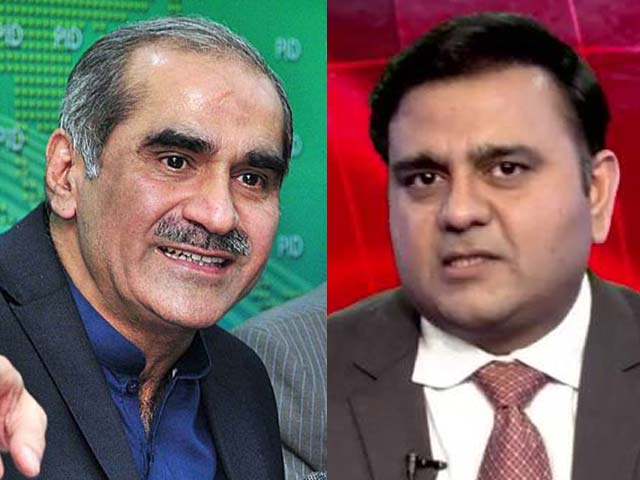 ---
Federal Railway Minister Khawaja Saad Rafique sent a legal notice to Pakistan Tehreek-e-Insaaf Spokesperson Fawad Chaudhry for leveling baseless allegations against him, demanding a compensation of Rs5 billion.

Addressing the media on February 22, Fawad Chaudhry had accused Saad Rafique of tendering a contract worth Rs14 billion of Ashiyana Housing Scheme to a chosen company and levled false allegations of corruption against him.

Those who benefited from martial law now preach democracy: Fawad Chaudhry

Saad, in his written notice, cited the Constitution of Pakistan guaranteeing protection of respect and reputation to every person and no person has the right to give defamatory statements about anyone without a legal reason.

"PTI's leader Fawad Chaudhry levelled false and fabricated allegations of corruption against Saad Rafique. He should unconditionally apologise for this act within 14 days and if not then Rafique reserves the right for legal action," the notice read.

Earlier this week, Fawad Chaudhry said that the ones who benefited from dictatorship were now preaching democracy.

Talal Chaudhry requests SC to withdraw notice of contempt case

He also lashed out at Saad Rafique, stating that the whole country knew that the Paragon Housing Society belonged to him.

The PTI leader further alleged that Prime Minister Shahid Khaqan Abbasi was "merely a puppet PM, while Fawad Hassan Fawad is the one calling all the shots".

He also alleged that a group of five, including federal minister Saad Rafique and Punjab government official Ahad Cheema, were Chief Minister Shehbaz Sharif's frontmen.
COMMENTS (1)
Comments are moderated and generally will be posted if they are on-topic and not abusive.
For more information, please see our Comments FAQ