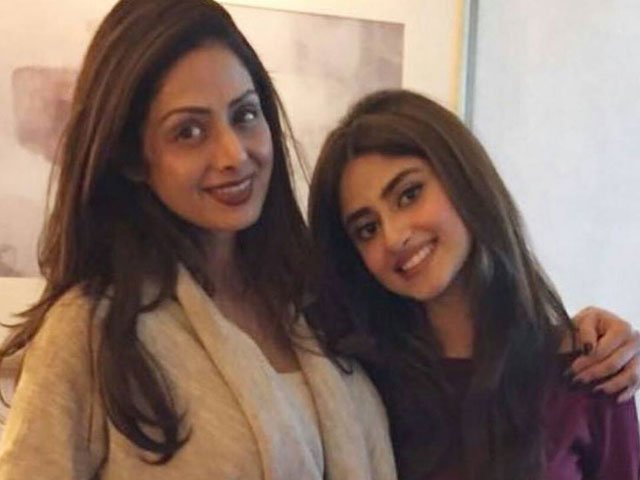 ---
Pakistani starlet, Sajal Aly, who made her Bollywood debut with Sridevi posted a heart-wrenching post regarding the latter's demise.

Sharing a picture with the Hawa Hawai star, Sajal wrote a small caption with huge feels.

"Lost my mom again," she wrote.

https://www.instagram.com/p/BfnKdH2AiQL/?hl=en/?&taken-by=sajalaly

It was a known fact that Sajal was very close to the actor, and a source told Deccan Chronicle, "Normally, Sridevi doesn't mix with her colleagues at all. Not now, not earlier, never. She is a complete professional on the sets. Even in real life, she hardly has any friends. But with Sajal, her equation was different."

And there might be a very good reason why Sridevi warmed up to Sajal.

Boney Kapoor lauds Sajal Aly and Adnan Siddiqui in 'Mom'

"Sajal lost her mother recently, whom she was very close to. It shattered the girl. Sridevi took Sajal under her wings after the tragedy, treated the girl like her own daughter. Afterwards, Sajal called Sridevi from her home-town in Pakistan and broke down saying the whole experience was too close to her to be treated as a film," says the source.

In a video that went viral earlier, a heavily emotional Sridevi who was almost on the verge of breaking down reminisced the time she was shooting with the Pakistani actors for Mom.




At the premiere of the movie, Sridevi tearfully confessed, "I really miss you all, the way you all have worked in this film is beyond compare. I can't even imagine this film without you all. It is a very special moment for us; we have been waiting for this so much. All the best and see you soon."

How Sajal Aly bagged her first Bollywood movie

Sajal took to Instagram to share the video, expressing her love for her on-screen mother. She wrote, "This was actually a surprise to me yesterday. I felt like she was there throughout. I couldn't hold back myself from crying. I am out of words."

Srivedi was recently named the Best Actor (Female) at Zee Cine Awards for Mom.




Receiving the accolade from actor Sidharth Malothra and her husband Boney Kapoor, the actor thanked the director and other co-stars of the film.

In the video, Sridevi can be heard thanking her Pakistani co-stars Sajal and Adnan Siddiqui, who portrayed the role of her daughter and  husband respectively in the movie.

Sajal Aly's relationship with Sridevi is 'stronger than the ones attached by blood'

"Mom is film I'm extremely emotional about," said Mr India star. "I would like to thank the entire cast and crew of the movie. Nawazuddin ji, Akshaye, Adnan Siddiqui ji, Sajal, my child, I love you and I miss you too."




She went on to add, "I would also like to thank the producer of the film Boney ji, who is also my husband for making me a mom is real life and gifting me two beautiful daughters Khushi and Janhavi. At the same time, thank you for making Mom and making me a part of it in reel-life!"