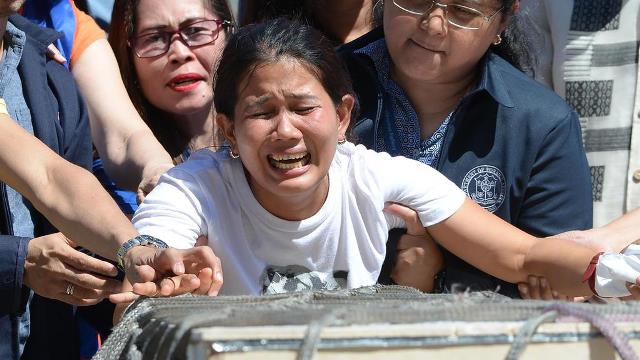 ---
BEIRUT: The employers of a Filipina maid found dead in a freezer in Kuwait were both arrested in the Syrian capital Damascus, a Lebanese judicial official said on February 24.

Syrian authorities surrendered Nader Essam Assaf to Beirut on Friday because of his Lebanese citizenship but his Syrian wife Mona remains in custody in Damascus, the official said.

The murder of Joanna Demafelis sparked outrage in the Philippines and prompted President Rodrigo Duterte to impose a departure ban for Filipinos planning to work in Kuwait.

The 29-year-old's body, which allegedly showed signs of torture, was found earlier this month inside a freezer in the abandoned apartment unit of the detained couple. The couple has been the subject of an Interpol manhunt since Demafelis's body was found more than a year after her family reported her missing.

Gay teacher fired from Catholic School after wedding photos shared online

"The couple was arrested in Damascus. They were the subject of an Interpol red notice and the Syrian authorities handed the husband over to Lebanese custody on Friday morning," the official said.

"Syria kept custody of the wife because she is a Syrian national," he added.  "Lebanon has asked Kuwait to pass on the husband's police record."

The official said that after leaving Kuwait, the couple had made a very brief stopover in Lebanon before travelling on to neighbouring Syria.

Kuwait's first film on Iraq invasion to make local debut

Duterte has vowed to bring justice to Demafelis's family, lashing out at the Gulf state and alleging Arab employers routinely rape Filipina workers, force them to work 21 hours a day and feed them scraps.

Kuwait has said it is investigating reported deaths and abuses, and insisted there were only a small number considering that there are more than 250,000 Filipinos working in the emirate.  Duterte this week sent a team of labour officials to Kuwait to seek greater protection for migrant workers.
COMMENTS
Comments are moderated and generally will be posted if they are on-topic and not abusive.
For more information, please see our Comments FAQ