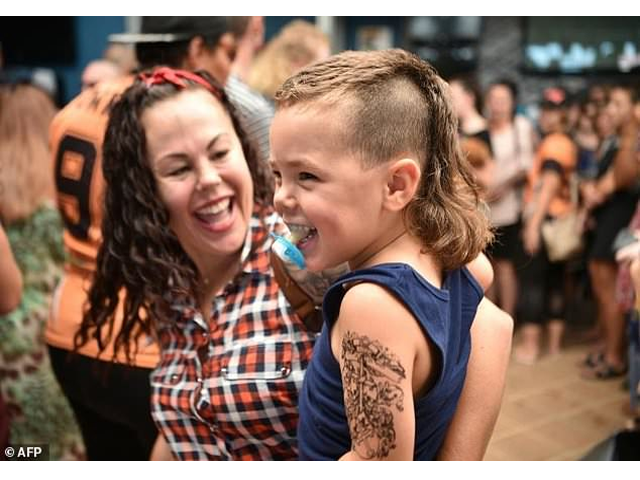 ---
"Business at the front, party at the back" was the mantra for the crowd of Australians sporting a mullet haircut at an inaugural festival celebrating the vintage style on Saturday.

More than 150 people showcasing the hairstyle popular in the 1970s and 80s flocked to a small town north of Sydney for the event, swishing their locks and parading their chops to cheering fans.

The mullet has remained a staple hairstyle in Kurri Kurri, some 150 kilometres from Sydney, according to Laura Johnson, a local publican who organised the festival.

"There's a school of thought from our locals at our table of knowledge here at the Chelly (Chelmsford) Hotel that they have had the mullets for the longest," she told at Kurri Kurri Saturday.

"We've got folks here that have been sporting their mullet haircut for over 60 years."

For Lloyd Martin, a flamboyant mullet contest participant passionate about the style, the cut is timeless and also intrinsically Australian.

'I was addicted to pulling my hair out'

"It's... one of the most Australian cultural haircuts you can have.

You've got to grow a mullet at least once in your lifetime. It's not a hairstyle, it's a lifestyle," he told.

The winner of the junior division, 12-year-old Alex Keavy, said he was not fazed by the style's old fashioned reputation.

"It's out of its time but I still like it and all my friends keep telling me that they want one but I don't think a lot of people can wear it properly," he told.

"I just love it because I like its style and I like long hair."

Laurie Manurele, who drove 12 hours from the neighbouring state of

Victoria to take part in the contest, has tended his mullet for 46 years.

He told he was impressed at the competition he faced.

"The quality of mullets here today is absolutely unbelievable," he said.

"It's amazing what's out there and Australia is the capital of the world for mullets."
COMMENTS
Comments are moderated and generally will be posted if they are on-topic and not abusive.
For more information, please see our Comments FAQ