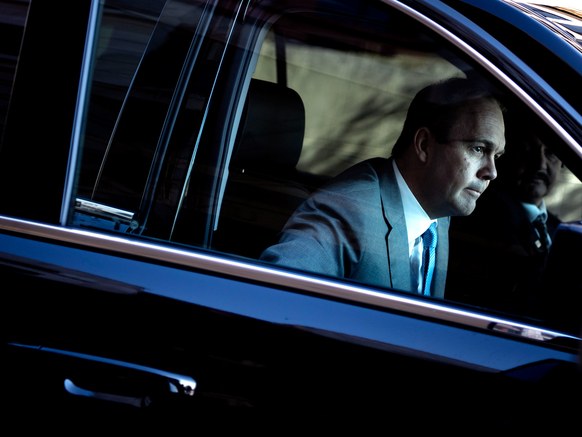 ---
WASHINGTON: President Donald Trump's former campaign deputy Rick Gates pleaded guilty Friday to fraud and lying, pledging to cooperate with Special Counsel Robert Mueller on his vast probe into Russian interference in the 2016 election.

Gates was the third former Trump aide to agree to cooperate in exchange for reduced charges by Mueller, who is also examining Moscow's alleged collusion with the Trump campaign and whether the president illegally sought to obstruct his probe.

Trump 'not satisfied' with Pakistan's anti-terror actions, says White House

The plea deal in a Washington federal court, on charges much reduced from the original ones filed against Gates, immediately put him at odds with his former business partner and ex-Trump campaign chairperson Paul Manafort, who refuses to bow to pressure from Mueller to strike a deal.

Manafort has countersued Mueller, accusing the former FBI director of going far beyond his Justice Department mandate in the probe.
A new indictment against Manafort accuses him of having secretly paid a group of former senior European politicians more than two million euros ($2.5 million) to lobby for the government of Ukraine's former pro-Russia president Viktor Yanukovych.

Gates and Manafort were originally charged on October 30 with multiple counts of laundering $75 million and tax evasion related to their work from 2006 to 2014 for Yanukovych.

They were also accused of illegally representing a foreign government, Ukraine, as lobbyists without first registering with the US government as foreign agents.

But the charges Gates ultimately pleaded guilty to on Friday were one count of conspiracy to defraud the United States in relation to not reporting offshore banking accounts, and one count of lying over his work as a foreign agent for Ukraine.

Each count could bring a maximum of five years in prison and a $250,000 fine. But sentencing depends on the extent of his cooperation with Mueller's broader investigation, which has focused on a number of others in Trump's orbit, including current White House aides and members of Trump's family.

That was similar to deals offered to two other ex-advisors to Trump, who have also pleaded guilty to reduced charges. Former Trump national security advisor Michael Flynn and former campaign foreign policy aide George Papadopoulos have each pleaded guilty to one count of lying.

Gates and Manafort still face a separate indictment filed Thursday by Mueller in a Virginia court, on charges of bank and tax fraud in relation to how they deployed their Ukraine earnings back into the United States. The Mueller probe, which began in May, has built up steam in recent weeks.

Last week, Mueller indicted 13 Russians who were allegedly behind a Kremlin-backed operation to spread disinformation and disrupt the 2016 election via social media.

And on Tuesday, a London-based lawyer with links to Russia and to Gates pleaded guilty to lying to FBI agents. Manafort was defiant, refusing to cut a deal.

"Notwithstanding that Rick Gates pled today, I continue to maintain my innocence," he said in a statement.

Trump's 'lies and deceit' tweet deeply hurt every Pakistani, Bilawal tells US media

"I had hoped and expected my business colleague would have had the strength to continue the battle to prove our innocence... This does not alter my commitment to defend myself against the untrue piled up charges contained in the indictments against me."

In a letter to family and friends made public by some US news outlets, Gates said he had planned to defend himself but had a "change of heart," and was ready to accept "public humiliation" to avoid distressing his children.

"The reality of how long this legal process will likely take, the cost and the circus-like atmosphere of an anticipated trial are too much. I will better serve my family moving forward by exiting this process," he wrote.