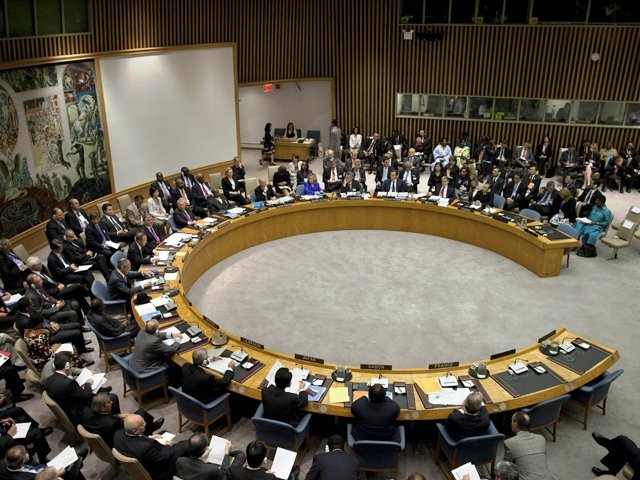 ---
UNITED NATIONS: The UN Security Council delayed a vote on demanding a 30-day ceasefire in Syria to Saturday at noon (1700 GMT) after hours of negotiations failed to yield agreement with Russia, diplomats said.

The council has been in talks on a draft resolution on the truce since February 9 as Syrian government forces have waged a fierce air campaign on the rebel-held enclave of Eastern Ghouta.

"We have not been able to close the gap completely," Swedish Ambassador Olof Skoog told reporters following a closed-door council meeting.

"We will work tonight and hopefully, we will definitely come back tomorrow and we will vote."

UN Security Council delays vote on Syria truce resolution

US Ambassador Nikki Haley expressed dismay as the negotiations dragged out for another day on the pause that would allow for humanitarian aid deliveries and medical evacuations.

"Unbelievable that Russia is stalling a vote on a ceasefire allowing humanitarian access in Syria," Haley posted on Twitter.

"How many more people will die before the Security Council agrees to take up this vote? Let's do this tonight. The Syrian people can't wait."

More than 460 civilians, including more than 100 children, have been killed in the six-day offensive on the rebel-held enclave, where UN Secretary-General Antonio Guterres said 400,000 Syrians are living in "hell on Earth."

Negotiations have stumbled over Russian demands that rebel groups fighting President Bashar al-Assad's forces comply with the truce.

UN Security Council to vote on Syria ceasefire

In a concession to Russia, the draft resolution states that the ceasefire will not apply to operations against the Islamic State group or Al-Qaeda, along with "individuals, groups, undertakings and entities" associated with the terror groups.

The text would demand the immediate lifting of all sieges, including in Eastern Ghouta, Yarmouk, Foua and Kefraya and order all sides to "cease depriving civilians of food and medicine indispensable to their survival."

Kuwait's Ambassador Mansour al-Otaibi, who holds the council presidency, said "we are very close" but that there was still no consensus on the draft resolution.

Russia has vetoed 11 draft resolutions on Syria that targeted its ally in Damascus. In November, it used its veto to end a UN-led investigation of chemical weapons attacks in Syria.
COMMENTS
Comments are moderated and generally will be posted if they are on-topic and not abusive.
For more information, please see our Comments FAQ