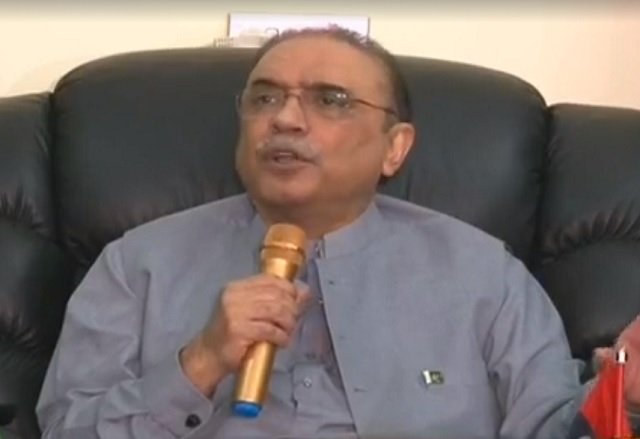 ---
ISLAMABAD: Former president Asif Ali Zardari on Friday criticised former prime minister Nawaz Sharif for weakening institutions by targeting them through his rhetoric.

"Such rhetoric is damaging for the country," said Pakistan Peoples Party-Parliamentarians (PPP-P) head Zardari during a press conference.

He said a prime example was Afghanistan where all institutions were destroyed, adding that the country could not stand on its feet again even after the US and its allies spent hundreds of billions of dollars.

"Allied countries in Afghanistan could not even establish an army in Afghanistan despite spending trillions of dollars over 17 years," he remarked.

He said he did not utter a word against any institution when a tape of alleged conversation between Punjab Chief Minister Shehbaz Sharif with Justice Malik Qayum surfaced in which Shehbaz could be clearly heard telling the judge to punish Zardari.

Zardari retracts statement calling Rao Anwar 'brave kid'

The former president claimed that the ruling PML-N was still not out of the Senate elections as its candidates had been allowed to take part in polls as independents.

He also claimed that unlike other parties, PPP gave Senate tickets to candidates who were in close contact with the masses.

He denied that he had any role in the change of the Balochistan government and said in his typical smile, "I had only prayed for this change."

When asked about the possibility of horse-trading when a large number of candidates would be contesting as independents, he said "Who can be better than Sharif when it comes to horse-trading."

To another question, he said after the recent arrest of former Lahore Development Authority director general Ahad Cheema, the rebellion in bureaucracy showed that the bureaucrats thought that they would be the next target of the accountability watchdog.

Backs decision of sending troops to KSA

Zardari supported Pakistan's decision to send troops for 'training and advisory' mission to Saudi Arabia. He said the prime minister had to take the decision as he would have done the same as he could not let down the Custodian of the two Holy places. "A small contingent like 1,600 troops cannot win a war. They are going there for training," he remarked.

Interestingly, some lawmakers of his party were suspicious over the decision taken last week. The Senate, which is dominated by the PPP, called the defence minister and questioned him over sending troops without taking the parliament on board. They were not satisfied with the minister's policy statement and wanted to know operational details which the minister declined to share, even in a closed-door session.

Zardari also claimed that he believed that the country's powerful institutions were neutral and were not meddling in affairs. He supported fencing of the Pak-Afghan border and hoped that relations with the eastern neighbour would improve in the future.

Zardari came down hard on the incumbent government for failing to plead Pakistan's case in the Financial Action Task Force meeting.

He said India had been taking advantage of poor foreign policy of the current government and was trying to isolate Pakistan.

Zardari retracts statement calling Rao Anwar 'brave kid'

Referring to last time when Pakistan was put on the grey list, he said Pakistan faced such a situation in the past as well and came out of it with the help of parliament and effective diplomacy.

Evades questions on Imran's marriage, Musharraf's return

He evaded questions about the possible return of former president General (retd) Pervez Musharraf and said that the law would come into action once the former military dictator returned.

On PTI Chairman Imran Khan's third marriage, Zardari said he would not comment on it as it was his personal matter.

Says Sharifs executed projects for kickbacks

He said Sharifs do not execute any development project unless they get kickbacks. They only focused on Lahore and neglected the rest of the country, including areas of Punjab outside the provincial capital.

He defended PPP's embarrassing defeat in the recent by-elections where their security deposits were confiscated. He said the ruling party spent billions of rupees to buy votes.

Zardari said audit department endorsed his stance about rigging in the 2013 general elections through returning officers as they had also raised objection over printing of ballot papers from private firms.