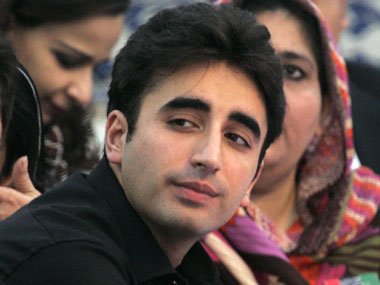 ---
LAHORE: Pakistan Peoples Party (PPP) Chairman Bilawal Bhutto Zardari on Thursday claimed that former Prime Minister Nawaz Sharif is seeking a confrontation between the judiciary and parliament.

The PPP chairman while addressing party workers in Lahore, said the Pakistan Muslim League-Nawaz (PML-N) is responsible for the current situation that is being faced by the ruling party.

"The PPP and other political parties had resisted the amendment that allowed a disqualified person to head a political party in the country," he said. He added that the opposition parties had demanded the PML-N to annul the said law.

The young PPP chairman also hit out on PTI supremo Imran Khan saying that the Pakistan Tehreek-e-Insaf (PTI) Chairman Imran Khan and PML-N policies were meant to make the rich richer and the poor poorer.

Sharif family is a master of lies, deceit and hypocrisy, says Bilawal Bhutto

"The Sharifs want all five mega projects to go to their cronies, while Khan's economic philosophy revolves around Jehangir Khan Tareen," said Bilawal. He said the people neither believe in the Sharifs' economic system nor in the fake change Imran Khan offers.

He appealed the people, especially from Punjab, to support and join his party to make Pakistan a progressive and modern state.

Currently, he underlined, Punjab belongs to elite but he wants to make it place for poor, labourers, farmers and minorities.

Dictatorships of Ziaul Haq, Pervez Musharraf and Sharifs had ruined Punjab, claimed the PPP chairman. Nobody is paying attention problems of the poor, he underlined. He said except for his party all political parties operating in the province are on the right wing.

Bilawal said, "I want economic justice in the country and have committed to complete the mission of PPP founder Zulfiqar Ali Bhutto and former prime minister Benazir Bhutto to empower workers and farmers." He added that the PPP is the only party in the country that can complete this mission.

Responding to a question, Bilawal said, "Everyone has to accept the decisions of the Supreme Court." He said Nawaz Sharif has to face accountability for the past three decades in addition to the Panama case. He also claimed that former prime minister Nawaz Sharif is a master of staging dramas.

Answering another question, the PPP chairman said, "If decisions are only given against politicians, the credibility of the courts would be in question.  The courts should also put former president Pervez Musharaf on trial for his deeds."

Later, Bilawal also visited the residence of the late journalist and poet Munir Ahmad Qureshi (Munnu Bhai) and offered condolences to his family.

In the evening, he addressed the participants of a PPP membership drive in Green Town using hologram technology.
COMMENTS (1)
Comments are moderated and generally will be posted if they are on-topic and not abusive.
For more information, please see our Comments FAQ