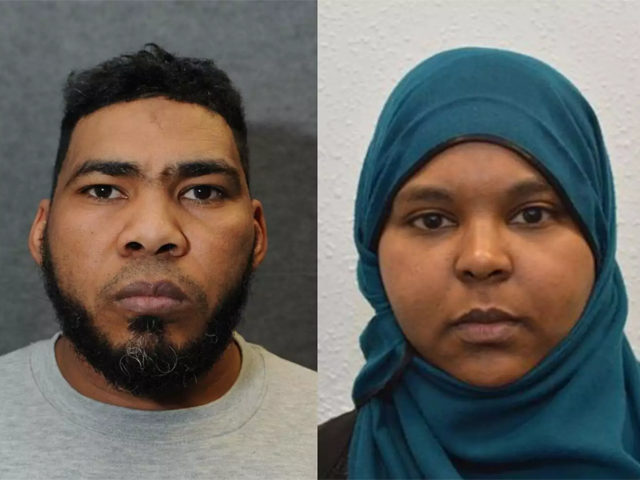 ---
LONDON: A couple who met on a dating site and began researching how to make homemade explosives and the deadly poison ricin, were jailed on Thursday for plotting Da'aish-inspired chemical and bomb attacks on Britain.

Munir Hassan Mohammed, 37, from Derby in central England,
was sentenced to life in prison, to serve at least 14 years behind bars, and Rowaida El Hassan, 33, was given a 12-year sentence.

"These were dangerous, calculated individuals, intent on causing harm to innocent people within our communities," said Detective Chief Inspector Paul Greenwood.

Mohammed began sharing extremist material within weeks of meeting Londoner El Hassan, a qualified pharmacist, who in turn helped him find information on making ricin.

When arrested, Mohammed already had two of the ingredients needed to make the highly unstable TATP (acetone peroxide), known as the "mother of Satan", which was used by a suicide bomber in an attack on a pop concert at the Manchester Arena last May, killing 22 children and adults.

Prosecutors said the couple had met on internet dating site,
singlemuslim.com. "I am looking for a man I can vibe with on a spiritual and intellectual level. Someone who can teach me new things and inspire me," El Hassan wrote on her dating profile.

Egypt sentences 21 to death for planning terror attacks

She sent messages to him on the WhatsApp service with links to websites on how to make ricin. He sent her back graphic videos of IS beheadings, shootings and killings of prisoners using explosives.

When police arrested him in December 2016, Mohammed, who worked in a food factory making meals for supermarkets, possessed instruction manuals on mobile phone detonators, ricin and how to make explosives, prosecutors said.

He had also contacted an IS commander via Facebook and offered to carry out a "lone actor" mission. "We'll never know what Munir Mohammed's target might have been," said Chief Superintendent Jim Allen from Derbyshire Police.

"What we do know is that he had the intention to cause serious harm to a large number of people." Mohammed, who the BBC reported was Eritrean-born and had come to Britain from Sudan as an asylum seeker, and El Hassan were both found guilty of preparing acts of terrorism at London's Old Bailey court last month.
COMMENTS (1)
Comments are moderated and generally will be posted if they are on-topic and not abusive.
For more information, please see our Comments FAQ