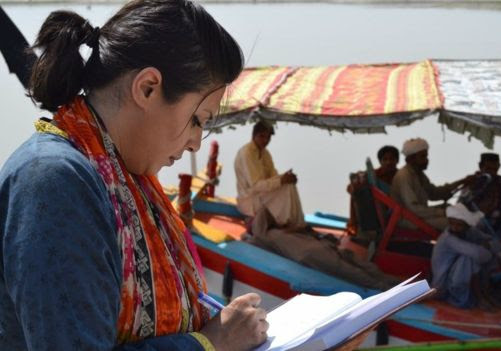 ---
The Coalition For Women In Journalism (CFWIJ), the first global network of support for women journalists is launching its Pakistan chapter on February 27, said a statement issued by the organisation on Thursday.

"We are absolutely thrilled to build a strong team to work in Pakistan for the incredible work that women in journalism are doing in this country," Kiran Nazish, the co-founder and director of the CFWIJ, was quoted as saying in the presser.

Prior to its launch, the organisation conducted a research to gauge the landscape in Pakistan for women journalists. According to the findings in that research, 69% of the female journalists reported facing harassment at work while 24.1% said they did not.




"That is an alarming number and we hope with a stronger support network in this country, we can  improve the condition through advocacy and awareness," Nazish was quoted as saying.

"Women have been working in every aspect of the journalism industry in Pakistan, yet there is no support system to address the kinds of issues they face," said Nosheen Abbas, the country manager of CFWIJ.

"This is what the coalition is here to do. I am honoured and thrilled to be a part of something that has been so long overdue."

"Media organisations in Pakistan don't have gender codes," said Tanzeela Mazhar, who looks at safe environments project with CFWIJ.

"They lack both resources and understanding that gender-specific environment is a critical need of an industry that has an incredible number of women working both in newsrooms and as freelancers," she added.

"In the current state of media in Pakistan, a support network is an urgent need, and we hope to help guide women journalists not only to navigate an environment filled with discrimination and harassment but to also claim their space in industry," Mazhar said.

"We want to build a thorough environment that encourages, instead of discouraging them to work as journalists."

A core operation of CFWIJ is the mentor-ship programme for mid-career and senior women journalists.




Marvi Sirmed, renowned Pakistani journalist who looks over advocacy for the CFWIJ pointed out the need for specialised mentoring, saying that women journalists face sexism everyday, whether in newsrooms or in the field.

Sirmed further pointed out that women do not receive gender neutral-mentoring in their field. "Whatever little guidance is available usually comes with either the strings attached or with heavy dose of patriarchal protectionism and patronage," she added.

"This is one reason why they don't dabble in the male [dominated] subjects," the press statement quoted Sirmed as saying. "We hope that through this initiative, young women can be offered mentoring essential to understand the professionalism in the beats they choose for themselves within journalism."

Based out of New York, the CFWIJ works in seven countries and offers mentorship in local languages.

"The network of individuals and organisations part of our network bring together the experience and mentorship necessary to help women navigate the industry," the press statement added.

The organisation will be holding a launch event at Islamabad Press Club on Tuesday next week with a panel discussion on the research the organisation conducted on issues female journalists face in the field.