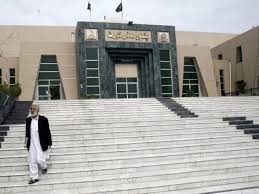 ---
Peshawar High Court (PHC) on Thursday issued a notice to the Federal Bureau of Revenue, suspending the authority from collecting sales tax in Provincially Administered Tribal Areas (PATA).

A two-judge bench heard the case filed from petitioners in Malakand.

The petitioner argued it is illegal for FBR to charge sales tax on products manufactured in steel and ghee mills in PATA.

The court was informed that the FBR currently charges 17 per cent sales tax on these products whereas there are no laws in PATA that mandate the taxation authority to collect a sales tax.

Therefore, it is illegal for the authority to collect the tax in PATA, the petitioner further argued.

Hearing the argument, PHC issued a directive to FBR, directing it to stop collection of the sales tax.

Pakistan's budget deficit widens to Rs796.3b

In a recent report on the budget deficit issued by the finance ministry, the government got a boost in its 'other taxes' collection, which stood at Rs287 billion, and were equal to 90% of the annual target.

This was because of Rs93.2 billion as sales tax on services collection by the provinces and a gain of Rs93.8 billion from the petroleum levy in the first half, according to the finance ministry report.

The budget deficit and the current account deficit remain the two biggest challenges for Pakistan's economy that overshadow the government's economic performance in other areas.

Because of these twin deficits, there are apprehensions that Pakistan may go back to the International Monetary Fund for yet another bailout package.










COMMENTS
Comments are moderated and generally will be posted if they are on-topic and not abusive.
For more information, please see our Comments FAQ