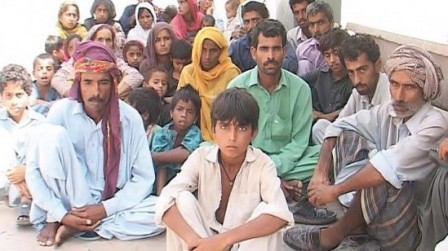 ---
BHURBAN: Pakistan will have to reduce its current population growth rate to half in the next 30 years to achieve the status of a high middle-income country, as the current pace of increase in population is a barrier to becoming a prosperous nation, said World Bank Country Director Patchamuthu Illango.

"Pakistan will remain a low-income country even after 30 years when it turns 100, if it does not control the exploding population bomb," said Illango while speaking at a seminar.

For the next 30 years, there are two possible pathways for Pakistan's economy and two different futures, he added. The recent population census revealed a number of 207.7 million. If we project that to 2047, then Pakistan's population will be 400 million people, he added.

Pakistan promotes importance of human rights: official

If we project the economic growth rate of the last 70 years to next 30 years, then the GDP per capita of Pakistan could be the same as today, said Illango. Pakistan's per capita income is $1,629, which clubs it among low-income nations.

Illango said that on the other hand, if Pakistan is able to contain its population growth rate to around 1% or below and the economy grows at a higher rate than 8%, Pakistan's GDP per capita will be around $10,000 in 2047.

At slightly over $12,000 per capita income, a country is treated as a high income nation.

The World Bank official said that the next 10 years are critical to lay the foundation for a more prosperous economy when Pakistan turns 100 years old. This miracle can be achieved in a generation, he added.

Illango also spoke at length about the current vulnerable macroeconomic situation. Pakistan's economy was facing short-term headwinds that were largely caused by an external trade situation, he added.

The headwinds are likely to continue until adjustments are made in the macroeconomic framework, said the World Bank country director.

He said that even after 5.2% recent devaluation in the rupee, Pakistan needs more flexibility to enhance the foreign currency reserves in order to stabilise them around two and half months of import bill cover.

The country booked seven-month highest ever current account deficit of $9.2 billion during July-January period, which was higher than its annual projection. With widening current account deficit, the foreign currency reserves slid to only $12.8 billion.

Illango said exports have started picking up but a lot more needs to be done. The tax-to-GDP ratio has increased to 12.4% but still it is not adequate, as less than 1% of the population is currently in the tax base, said the country director.

There should be greater coordination between the federal and provincial governments on tax policy and their operations, he added.

Responding to a question, he said that the World Bank requires an adequate macroeconomic framework to provide budgetary support. The World Bank is not processing budgetary loans due to vulnerabilities of the macroeconomic framework.

To another question, Illango said that it will be up to the government whether it needs an International Monetary Fund (IMF) programme while keeping in mind the balance of payments requirements.

"If you have revenues growing, exports earnings going up and import bill is manageable then you don't have a situation to go back to the IMF."

Pakistan blocking access to grazing land leaves Afghan nomads trapped, hungry

He said that Pakistan did well during the first two years of IMF programme in 2013 and 2014 when this government took stabilisation measures.

Resultantly, Pakistan had the best growth rate in 2016-17 in 10 years. The tax-to-GDP ratio rose and budget deficit was fairly managed.

In the last one year, the external sector situation has caused the current problems that Pakistan's economy is facing today, he added.

Many economic challenges exist because of lack of political consensus, said Illango. "If political consensus is reached among major political parties and other key stakeholders, then the direction of the economy will be on one sustainable path.

"Hopefully, all the political parties will reach a consensus that the overall framework of the economy should be consistent, irrespective of which political party is in power."

He said that the World Bank was still looking at GDP projections and would give its number for the current fiscal year by April. The government's official target is 6%.

Published in The Express Tribune, February 22nd, 2018.

Like Business on Facebook, follow @TribuneBiz on Twitter to stay informed and join in the conversation.
COMMENTS (1)
Comments are moderated and generally will be posted if they are on-topic and not abusive.
For more information, please see our Comments FAQ