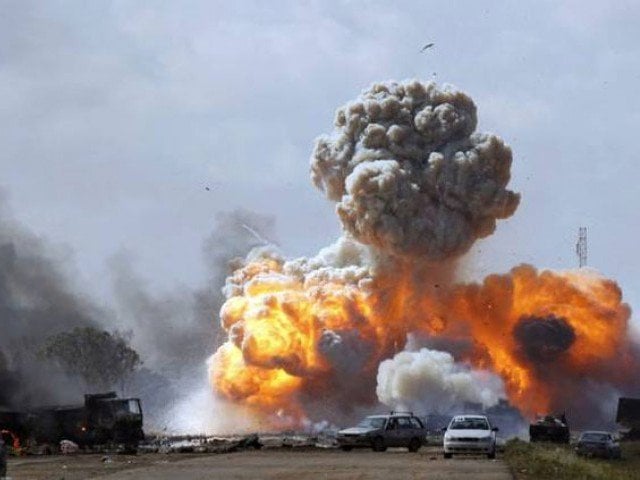 ---
YANGON: A bomb blast killed two bank employees and injured 22 other people in Myanmar's northeastern city of Lashio on Wednesday, the government and the military said.

Police said an investigation was under way but would not elaborate on whether there were any suspects in the attack.

Lashio is in Myanmar's restive Shan State where several ethnic insurgent groups are fighting the Myanmar military. "We just received a (local) police report about the bomb blast in Lashio (on Tuesday) evening," police spokesperson Colonel Thet Naing said in Myanmar's capital Naypyitaw.

The two dead were both women, government spokesman Zaw Htay said in a post on Twitter linked to a government statement on the Lashio explosion.

The military said in a statement 22 people were injured. Another police spokesperson, Colonel Myo Thu Soe, said no suspects could be identified at this stage.

"We're still investigating," he told Reuters. A Lashio resident, 27-year-old Lway Dehnin, said she heard the explosion around 4:30 p.m. near two banks close to the regional health ministry building in the heart of the city of 170,000 people. "The explosion happened near Aya and Yoma banks.

The windows in the buildings were broken. Also the windows of the ministry of health and some nearby houses were broken," said Lway Dehnin.

Baghdad twin suicide bombing kills 31

Yoma Bank said two of its Lashio branch employees were killed and that both of its branches in the city would be temporarily closed.

Unverified photographs and video clips posted on social media by local residents and journalists showed the bank buildings with blasted windows and damaged signboards.

A wall of Yoma Bank building also showed signs of damage. Lashio is one of the largest cities in Myanmar's northeast, straddling the main road connecting the central city of Mandalay with the main crossing on Myanmar's border with China at Muse, about 110 km (68 miles) to the north. Bomb explosions in cities in Shan are not unusual, but they
are typically much smaller than Wednesday's blast.

Civilian fatalities and injuries are rare. Myanmar's de facto leader Aung San Suu Kyi wants to revive a stuttering peace process to end decades of ethnic wars.

Two armed groups signed a ceasefire with the government last week.

Ending near perpetual civil war has been Suu Kyi's stated top priority, but the Buddhist majority Southeast Asian country has seen the worst fighting with rebels in years since she took office almost two years ago.