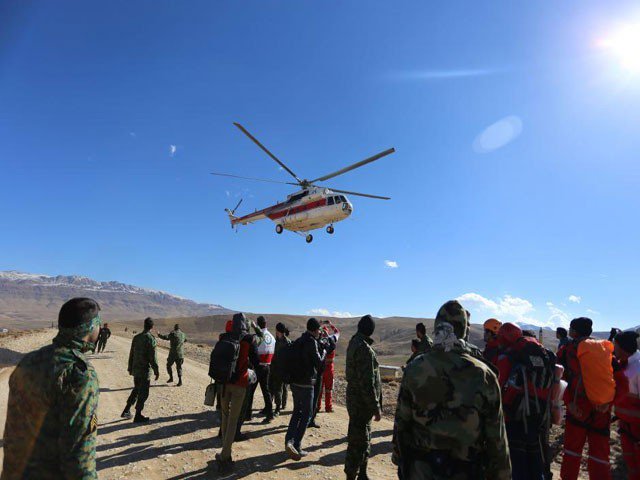 ---
Iranian emergency teams on Wednesday began recovering the bodies of the dead from a plane that crashed high in the Zagros mountains with 66 people on board, officials said.

No survivors have been found from Aseman Airlines flight EP3704, which disappeared from radar on Sunday morning, around 45 minutes after taking off from Tehran on a domestic flight.

All 66 onboard dead as passenger plane crashes in central Iran

Search helicopters finally located the crash site after a break in the weather on Tuesday at a height of around 4,000 metres (13,000 feet) in the Dena range.

But the altitude and weather conditions have meant that helicopters cannot land to recover the bodies of the dead and they are being brought down on the backs of emergency personnel to a road at the foot of the mountain.

"At the moment, we have a snowstorm and icy winds on the peaks and visibility is very low," the deputy commander of army ground forces, Brigadier General Nozar Nemati, told state television.

"We decided that those bodies that can be carried down would be brought down by army commandos or by the emergency services," he said.

Mohsen Mehralizadeh, the governor of Isfahan province from where part of the recovery operation is being coordinated, said 32 bodies had been found so far.

Iran cannot confirm missing plane found, freeze hampers search


Crevasses and the risk of avalanches made the operation hazardous and time-consuming, emergency officials said.

The crash of the ATR-72 twin-engine plane, which had been in service since 1993, has reawakened concerns over aviation safety in Iran, which has been exacerbated by international sanctions over the years.
Aseman Airlines was blacklisted by the European Commission in December 2016.

It was one of only three airlines barred over safety concerns -- the other 190 being blacklisted due to broader concerns over oversight in their respective countries.
COMMENTS
Comments are moderated and generally will be posted if they are on-topic and not abusive.
For more information, please see our Comments FAQ