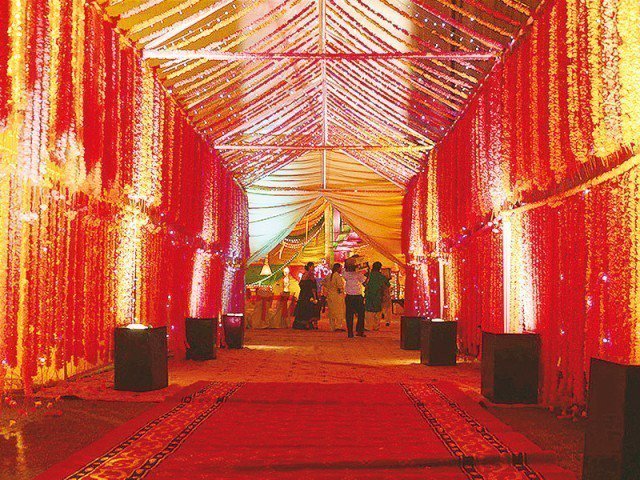 ---
ISLAMABAD: After the Supreme Court expressed its dissatisfaction with its regulatory moves, the top civic body in the capital hastily revised rules for regularizing marriage halls in the capital.

A host of new measures to deal with solid waste generated at these centres were included in the regulations.

After the Supreme Court — while hearing a suo motu case regarding illegal marriage halls and marquees in Islamabad — directed it, the Capital Development Authority (CDA) held a meeting of its board early last week. In what was its first meeting of the year, the CDA board approved by-laws to regularise dozens of marriage halls and marquees which have sprung up around the capital over the past decade.

When a report on the new regulations was presented before Supreme Court on Monday, a three-member bench of the apex court, headed by Chief Justice of Pakistan Saqib Nisar, expressed its dissatisfaction over approved by-laws.

The court observed that the new regulations did not include any provisions for management or treatment of sewage and solid which would be generated at these halls and marquees.

The top court subsequently directed the civic body to reconvene its board and include regulations for treatment of sewage and solid waste management.

Subsequently. CDA board met for the second time in as many weeks late on Monday evening and approved regulations for sewerage treatment and solid waste management for marriage halls and marquees.

The new provisions state that wherever a sewerage network is not available, the marriage halls and marquees would provide a compact sewage treatment plant facility for disposal of sewage. Moreover, fully sealed septic tanks shall be installed which can be mechanically drained through flushing units.

Halls and marquees will also be required to submit their plans for solid waste management to cater for the disposal of garbage generated on their premises at a rate of one kilogramme/per person/event along with structural plans for approval.

Moreover, all garbage generated shall be transported to the approved disposal sites.

The new parameters spell out a three-step procedure for granting approval to marriage halls and marquees including land use conversion, planning permission, approval of building plans besides of completion certificate.

Owners and operators of existing marriage halls and marquees have been directed to submit an application for regularisation along with documents, plans and a one-time non-refundable scrutiny fee of Rs300,000. Moreover, one-time land use conversion charges including development charges for marquees and marriage halls at a rate of Rs2,000 per square yard will be charged.

Similarly, for regularisation, the owners would have to submit Rs100 per square feet of the total covered area as a one-time, non-refundable payment. CDA will also charge Rs50,000 per month as access charge which can be paid in advance for five years. These documents have to be submitted within four weeks of a public notice being published.

The CDA will be required to complete the scrutiny of applications, issue planning permission and approval of building plans in another four weeks.

Moreover, owners will be afforded 12 weeks to ensure their existing structures conform with the regulations.

In the event that owners cannot get their structures to conform with regulations even after a four-week extension, the CDA will issue a show cause notice with a two-week notice of demolition under section 49-C of the CDA Ordinance 1960.

According to one of the conditions of the new by-laws, the operators of the marquees/marriage halls who do not apply for regularisation procedure shall proceed for the demolition of the violating structures under 49 C of CDA Ordinance.

Published in The Express Tribune, February 21st, 2018.
COMMENTS
Comments are moderated and generally will be posted if they are on-topic and not abusive.
For more information, please see our Comments FAQ