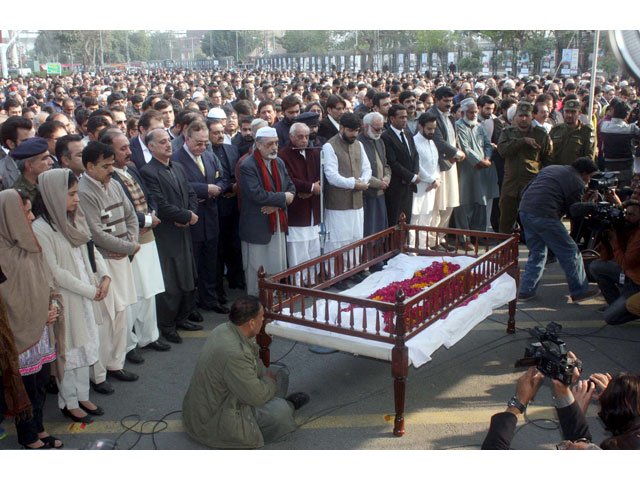 ---
An applicant has approached Gulberg police station, Lahore, requesting registration of a first information report (FIR) against "mixed prayers" at the funeral of renowned late lawyer and activist Asma Jahangir.

According to the applicant, a resident of district Sheikhupura, Haider Farooq Maudaudi led the prayers on February 13 at Qaddafi stadium, Lahore.

He said that those in attendance participated in the prayers at the behest of the accused, Haider Maudaudi and relatives of late Asma Jahangir, Muneeza Jahangir and Saleema Jahangir.

Thousands bid adieu to Asma Jahangir

"Their act was in completed violation of Islamic tenets, aimed at deliberately hurting the sentiments of Muslims, especially of those in Pakistan."

The act, he added, was seen on television and through photographs, leading to desecration of Islamic principles.

The applicant said that the accused, besides committing a major sin, violated Pakistan Penal Code 295-A, saying an FIR should be registered against them and legal proceedings initiated.