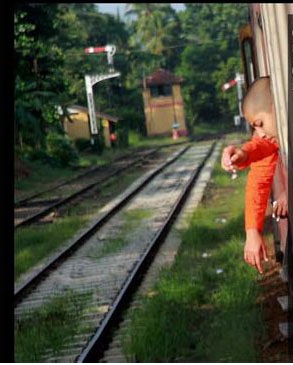 ---
KARACHI: The Centre for Excellence in Journalism (CEJ) at the Institute of Business Administration held an interesting photo exhibition of the work of two The Express Tribune staffers, photographer Athar Khan and reporter Naeem Sahoutara at it city campus on Monday. The photographs depicted various aspects of the journalists' journey to Sri Lanka and India.

The exhibition, titled. 'Two Journalists' Journey through South Asia', displayed the work done by the pressmen, associated with The Express Tribune. They were on a reporting trip through the two countries sponsored by the East-West Centre, Hawaii, USA.
Sri Lankan Consul-General in Karachi G L Gnanatheva, while inaugurating the exhibition, talked of the rich cultural heritage of both Sri Lanka and Pakistan. He also lauded the ties between Pakistan and Sri Lanka that stood the test of time and lasted uninterrupted for 70 years.

Photography show: Resilience of Pakistanis captured in photos

He was thankful to Pakistan for having helped Sri Lanka stem the civil strife and terrorism in the island nation. He said that the Sri Lankan government would soon initiate schemes to sponsor tourists from Pakistan.

Susan Kreifels of the East-West Centre said that the programme aimed at developing bonds between the journalists of India and Pakistan and developing an information network.

She said that the programme targeted 300 journalists to determine the commonalities between the two nations.

Kamal Siddiqi, the director of CEJ, said that the programme had been initiated by the East-West Centre for bringing about bonding between the journalists of India and Pakistan and mitigating acrimony. He said that under the exchange programme, the Indian journalists were scheduled to visit Pakistan but they were refused visas.

Amazing Pakistan—Amazing Afghanistan: Gujrat contestant bags top spot in photo competition

The walls of the centre were adorned with around 60 photographs depicting the scenic splendour of Sri Lanka, with those placid beaches and tourists thronging them. The most prominent were the photographs of the elephants as the big hulks of creatures are to be found in abundance there.

The photographer also beautifully snapped the male and female monks, scenic beauty of cloudy lush-green valleys, giant Budha statues, among other locations.

As for India, the photographs presented a very neutral picture of the country. The exhibition was something like a refresher's course in Muslim history of the subcontinent, with four pictures of Humayun's tomb showing different aspects, different angles, the Jama Masjid in Delhi and shrine of Hazrat Nizamuddin Auliya.

The other photographs were those of the Quwwat-e-Islam Mosque, Lodhi Garden, majestic Qutb Minar, etc.

One of the picture's depicted the beautiful beach of Goa, the Christians living in Goa - a tiny community of Goans lives in Karachi.
COMMENTS
Comments are moderated and generally will be posted if they are on-topic and not abusive.
For more information, please see our Comments FAQ