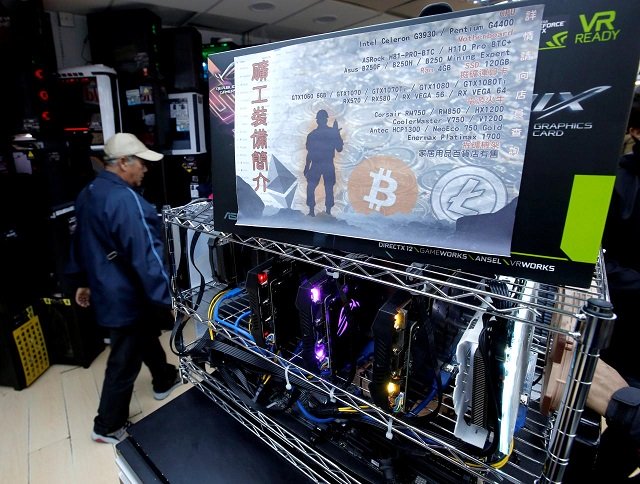 ---
Some of the biggest electronics bazaars in Asia are being flooded with customers looking for the latest piece of technology: cryptocurrency mining rigs.

Scores of miners from around the world are traveling to places like Hong Kong's Sham Shui Po and Singapore's Sim Lim Square to buy the rigs, which the shops' hardware geeks expertly build behind counters in their cramped boutiques.

Some miners only buy components: a motherboard, graphics processing units, fans, power adapters, a display card and a memory card. But even if the vendors assemble them on the spot for a small fee, the finished product is usually still a relative bargain.

Congress sets sights on federal cryptocurrency rules

"It's 30-50 per cent cheaper to buy equipment related to cryptomining in Hong Kong than in Europe," Russian bitcoin miner Dima Popov said. Hong Kong, for instance, has no sales tax and is closer to component suppliers.

Popov buys display cards, motherboards and power supplies in Hong Kong and mines cryptocurrencies in Russia, where electricity is cheaper and the climate is more suitable.

The demand for the rigs has added a new dimension to Asia's tech shopping hubs whose once bustling business fizzled out in recent years hit by waning demand for personal computers. Storefronts that once catered mostly to locals, selling phones and other consumer gear, are now greeting foreign visitors searching for hardware that might make them rich.

DIGITAL MINING

The rigs are often stacked in warehouses as large as airplane hangars and are monitored constantly.

Each unit contains energy-intensive processors that solve complex mathematical computations. When they do so, they have awarded them the right to validate a blockchain transaction, earning them a "mining" fee.

One cryptocurrency expert said anecdotal evidence suggests on average miners would get their money back in about three months. But those with small, home-based operations might have to wait much longer for a payoff.

In Hong Kong, shopkeepers say most buyers come from Russia, but they have had clients from western Europe, Africa, and South Korea. Singapore sees visitors from neighboring countries with cheaper operation costs.

Their mining machines' parts are mostly manufactured in China using chips from Advanced Micro Devices (AMD) and Nvidia, who are looking for export customers amid fears that Beijing will crack down on cryptocurrency miners.

"We've been selling more these few months and we often run out of stock" as miners move elsewhere and components flood out of China, said Grant Mak of C. Base Computer.

Jerry Wu, the shop manager of Wisetek Digital Technology, says selling cryptocurrency mining equipment is 50 per cent more profitable than selling computer parts and brings him HK$50,000 to 60,000 ($6,400-$7,673) a month in profits.

"The revenue is large," Wu said.

CHIPMAKERS CAPITALIZE

As miners hunt for deals on gear, chipmakers see opportunity. Rigs can cost anywhere from a few thousand dollars to tens of thousands or more - and processing chips are the priciest component.

Samsung, the world's biggest microchip producer, said "explosive" demand for the graphics processors used in mining cryptocurrencies is driving fresh growth.

"A share of clients from the virtual currency industry is expected to grow dramatically this year in our foundry customer base," Lee Sang-hyun, vice president of Samsung's foundry business, said during a conference call.

Taiwan's Advanced Semiconductor Engineering predicted an upswing in demand this year for chips used for mining rigs.

And Taiwan Semiconductor Manufacturing (TSMC), the world's No.1 foundry by revenue and volume, has embraced cryptocurrency mining as a business venture.

But they know how fast that could change.

"The urge to mine cryptocurrency is very strong. The incentive, of course, depends on the price of cryptocurrency. And the price of cryptocurrency is very volatile. But the demand right now or for the last year has been very strong, and we expect it to continue to be strong," TSMC's chairman, Morris Chang, said on an earnings call last month.

'THEY TRUST SINGAPORE'

Singapore's smaller version of Sham Shui Po, the electronics shopping center at Sim Lim Square, is also seeing increased demand for mining equipment.

Anuj Agarwal, a 39-year-old consultant for his brother's shop, Bizgram, said he has dealt with buyers from Vietnam, Malaysia, Indonesia, and Russia.

"Foreigners come to Singapore as there is an immediate supply of mining rigs here, and they trust Singapore as a country," he said, adding that some were as young as 16 and came with their parents.

Nearby at Video-Pro, Liu Xiao Yu said he cannot keep up with the demand.

"There was a customer who asked for a rig with 500 GPU cards, which amounted to over S$350,000 ($262,700)," Liu said. "There was another who came by last week asking for 1,000 GPU cards, but I am afraid to accept the offer as supplies are low now."

Pac-man creator Atari to launch own cryptocurrency

One rig with GPUs usually has six to 12 such cards.

Vendors say the 60 per cent drop from an all-time high of close to $20,000 BTC=BTSP did not deter their regular customers, who tend to own large mining operations.

"Individual players may be freaked out, but the big players do not really mind. Big players are our major customers," said Roy Chan, shop manager of BNW Technology in Hong Kong.

In Singapore, some sellers saw a 40 per cent drop in revenue as Bitcoin prices tanked, but the shops are unfazed.

"Once the value of Bitcoin increases again, we will receive multiple calls and emails from customers all over the world," Agarwal from Bizgram said.