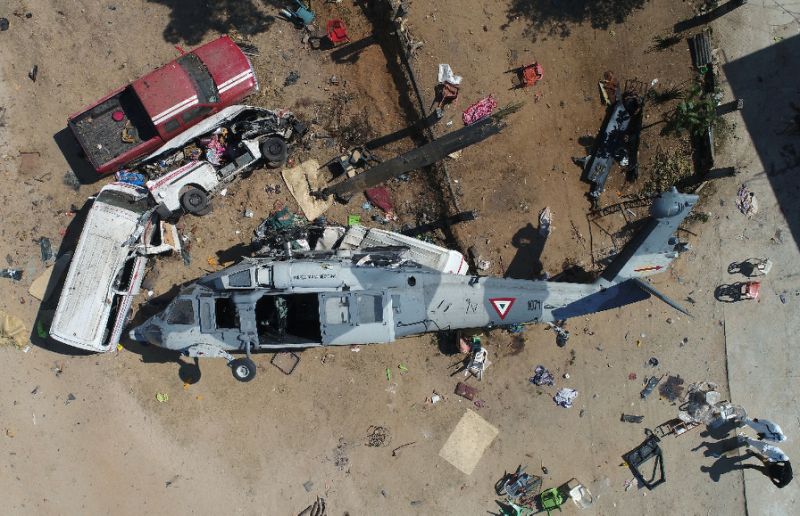 ---
SANTIAGO JAMILTEPEC, MEXICO: They thought the worst was over. The 7.2-magnitude earthquake that shook Mexico on Friday evening hit right near their hometown, the southern city of Santiago Jamiltepec, but the damage was minor.

No one died. People's houses were still standing. In fact, the entire country was breathing a sigh of relief. Unlike previous earthquakes that killed hundreds or thousands of people in Mexico, this one claimed no lives and left minimal destruction.

Still, there is always the fear of aftershocks.

Strong quake shakes Mexico, causing panic

So a group of residents of Santiago Jamiltepec, a town of 20,000 people in the mountains of Oaxaca state, set up camp in an open field for the night, fearing another quake could bring down their houses.

That is where they were when the Mexican interior minister and Oaxaca governor arrived in a military helicopter to survey the disaster zone.

The authorities are still investigating exactly what went wrong. But somehow, the pilot lost control of the UH-60 Black Hawk, keeled over and crashed about 40 meters (130 feet) to the ground.

Interior Minister Alfonso Navarrete and Governor Alejandro Murat were unharmed. But the helicopter plunged straight into the crowd on the ground, its rotor blades hacking people to bits.

Fourteen people were killed, including a six-month-old baby and a 10-year-old girl. Another 15 were injured, some losing limbs.

Two days later, the town is still in shock at the tragedy. Blood stains are still visible on the ground where the mangled wreckage lies, cordoned off by the military.

Clothing, chairs and toys still lie in the dirt around the wreckage.

"Every time I go home I have to walk by here and see this," said a shaken Concepcion Ramirez, 54. "It was horrific. We'll never be able to forget it."

Leopoldo Garcia, who lives nearby, said the helicopter circled overhead several times.

"It was flying very low. Suddenly it started swaying violently and fell like a rock, with the blades right over those poor people. And that's when the screaming started," he told AFP.

"That's when people saw it: one person cut in two, another with his insides hanging out, others beheaded by the blades," said another resident, who asked that his name not be used for fear of reprisals from the military.

"People were hacked to pieces," their horrified relatives left to try and pick up the severed body parts, he said in a trembling voice.

The accident has been gut-wrenching for the military, too. "We came here to help people. That's our job. But instead it just made things worse," said an officer deployed to the zone.

Defense Minister Salvador Cienfuegos flew in to meet with families of the victims. "I want to convey our condolences, on behalf of all Mexican soldiers," he said. "The defense ministry completely assumes its responsibility for what happened."

But relatives were livid as they buried their dead this weekend. "No apology can fix this," said Eduardo Morales after burying his cousin, 28-year-old Lauro Sanchez.

"This accident left orphans and widows. Who's going to take care of those kids whose feet were totally mangled?" he asked in outrage.

Hundreds of residents took part in a large funeral procession on Saturday, carrying the colorful coffins to the local church amid sobs and screams.

Mexico helicopter crash kills 13 on ground in wake of earthquake

Forty-year-old Lorenzo Zarate's mother, Maria Margarita Sanchez, was so shattered she could barely speak. "I can't describe my sadness," said the 63-year-old woman, burying her face in her scarf.

Virginia Suarez, a family friend, clutched her rosary as a priest in a purple tunic presided over the service.

"We're all saying the same thing: how is it possible they died like this when all they wanted was to take shelter from the earthquake?" she said through a white veil.
COMMENTS
Comments are moderated and generally will be posted if they are on-topic and not abusive.
For more information, please see our Comments FAQ