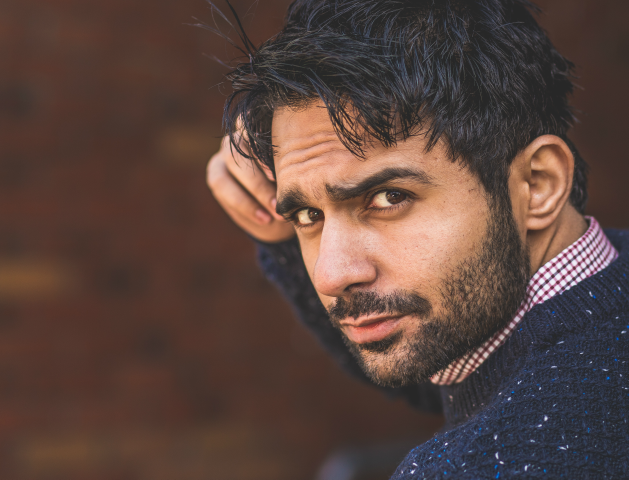 ---
DUBAI: There's a new heartthrob on the horizon. Veteran actor Firdos Jamal's son, Hamza Firdos seems to have arrived on Pakistani screens to become the next big thing.

He played a relatively small part in the hit drama O Rangreza and also has a supportive role in the new period play Ghughi. But he already seems to be going places and is slated to lead in a few noted upcoming dramas.




The Express Tribune caught up with this rising star about acting, criticism and his future plans and here's what he shared.

"I didn't plan on becoming an actor. I left for Ireland eight or nine years ago and initially thought I couldn't act. I had done a Pashto music video just out of interest but never thought about it as a career or anything,"said the actor.

He continued, "I studied Finance in Ireland but started doing amateur theatre on the side which later turned into a very good part time hobby. I trained myself in the Meisner and Lee Strasberg method acting. I did theatre plays, a BBC series and some short films in Ireland. I also produced a web series back in Ireland."




Does he take after his father's profession as an inspiration? "I always had an inspiration I guess - it was deep within and unconsciously I was hounding my skill. There are some finer details that I had worked on all this time, I guess that shows in my work now in Pakistan," shared Hamza.

The star played 'Tipu' in the drama O Rangreza (written by Saji Gul and directed by Kashif Nisar) where he plays a selfish, manipulating brother to Sassi (played by Sajal Ali). Hamza received criticism from some circles for not essaying the role in the way that may have been expected. There were some mannerisms that Hamza added to 'Tipu' that garnered the unfortunate label of a 'sissy'.




"It is very hard when you're criticised," Hamza admitted. "I haven't been criticised to this extent ever before and it definitely wasn't easy. It was hard to take but it got alright with time."

"I was okay with the whole experience later on and understood where they were coming from. At the same time, there was a lot of positive feedback. Everything sort of balanced out," he added.

Hamza went on to express how he was glad that the criticisms came in his first drama as he has had a chance to learn from it. "Now when I'm doing another character, they can see me in a different form and go on to appreciate it."

Sajal Aly's mesmerising singing debut has left us wondering when her solo album is coming out!

He expressed that he understands the audience's point of view but that was the character required by the director. "You had to stand before such great actors like Nauman Ijaz and Sajal Ali - and you have to be skilled in order to be seen among these people. If the audience remembers me for my character, it's a win for me. Even if I'm criticised - it's good."

Hamza is now seen as Tek Chand in the new play Ghughi where he plays an orthodox Hindu man. Based on the Bollywood film Pinjar, Ghughi is the story of a tragic story of a Hindu and Muslim woman. "When I read the script, I was filming for O Rangreza andwas being offered similar roles - negative characters. At that time, when Ghughi came to me, it was a 180 degree shift. I wanted to perform a very different character, so at least I am known in the industry as an actor who can portray very diverse roles."




So how did he prepare for Tek Chand? "I read up books on Partition as I wasn't aware of a lot of things that happened in Punjab during that time," Hamza replied.

He also researched a lot of videos on migration and interviews of people who went through it. "It was very clear from the script what the character was... but for the accent, I used to listen to Amitabh Bachchan a lot – his kavitas, the way he speaks Hindi. It was very clear from day one who Tek Chand was."

Now that the actor has starred in two very major plays, his run-ins with fame have begun. "The first time I was in Emporium Mall in Lahore, I was with my dad and there were a group of girls who saw me sitting at a coffee shop so I waved at them."




He continued, "After a few minutes they came to me and wanted a selfie. I could see how proud my dad was when that happened. There have been a few incidents after that but this was the first one so it's very special... it was surreal."

So what does Hamza think roles for men are like in Pakistani dramas today? "In majority of the dramas, we have a certain kind of leading character and that character is usually replicated," he expressed. "The way I look at it, is that every story has a leading character – so for me, you may want to call the leading character a 'hero' and I don't mind that."

He added, "I want to do those roles too but I can do both. I can be Tipu and Tek Chand – so I can happily fit into a clichéd 'hero' as well. I want to work with directors who can allow you the freedom to explore. It's an amalgamation of everyone's thought of what goes in a project."




Speaking of whether there's any role in particular that he'd like to do, Hamza said, "I would want to exercise all my different acting muscles. Whatever comes along the way I'll do it but I'm quite excited about the stuff that has come my way"

He went on to speak about how all these characters are different from each other. "There's so much to do. I usually hear that there's similar scripts and stories going around and that's true to some extent but it depends on you as well. You can do the same role in various ways. Tipu could have been done in so many different ways but I did it this way. With the help of Kashif Nisar, this was my own rendition.

'Ghughi' will make people on both India and Pakistan gravitate to their roots: Adnan Siddiqui

The actor stated that he is grateful for what he has and there isn't any particular role he'd want to do. However, there is a whole range of other things he would like to get into. "I want to put my audience in a dilemma... in such a dilemma that they can't peg me down. So that they can't say 'hey he's that guy from that particular drama.'"

Hamza is in talks for some romantic comedies and is also writing a script about an autistic man. "You can't really plan these things," he says about his upcoming endeavours. "They happen when they are meant to happen."

Have something to add to the story? Share it in the comments below.
COMMENTS (1)
Comments are moderated and generally will be posted if they are on-topic and not abusive.
For more information, please see our Comments FAQ