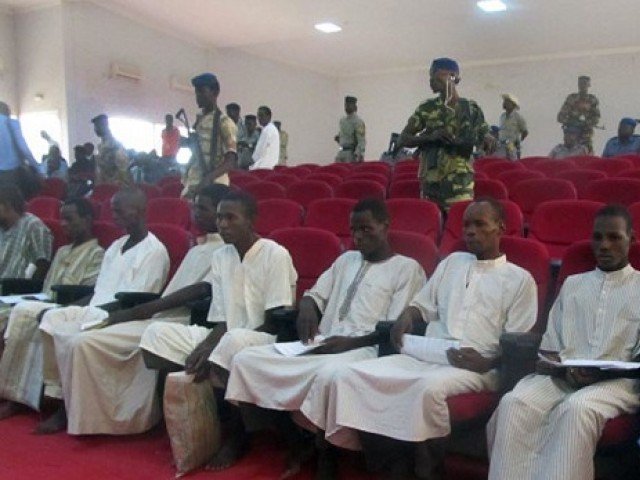 ---
ABUJA: Nigeria has freed another 475 Boko Haram suspects following a series of mass trials in which most cases were dropped for lack of evidence, the justice ministry said Sunday.

Over the course of the week, hundreds of suspected Boko Haram terrorists have appeared before a court at the Kainji military base in central Niger state.

The release order was issued on Friday, with the 475 suspects to be returned to their home states for "proper rehabilitation" before being sent back to their families, ministry spokesperson Salihu Othman Isah said.

He said they had been arrested on grounds they either belonged to Boko Haram, or had concealed information about the group's plans or its members' whereabouts.

"However, the Prosecution Counsel could not charge them with any offence due to lack of sufficient evidence against them. Therefore, the suspects were released."

Among those released was a young girl with a three-month-old baby from Borno State who was taken to a Boko Haram enclave by her brother and married off to his friend when she was 11. She was arrested in 2014 while trying to escape.

Also freed were two mechanics, identical twins who were arrested in Bauchi State in 2010 after servicing a vehicle at their workshop which belonged to a Boko Haram member.

Nigeria resumes mass trial of hundreds of Boko Haram suspects

Also Friday, the court imposed a second 15-year sentence on Haruna Yahaya, 35, who was involved in the 2014 kidnapping of more than 200 schoolgirls from Chibok.

Earlier in the week, he had been jailed for 15 years but the court handed him an additional 15-year term, with the judge saying the two sentences would run consecutively.

In total, some 1,669 people have been processed in a string of mass hearings which began in October at four specially-constituted civilian courts inside the facility.

Most were men, but their number also included some women and children, with Nigeria widely criticised for holding them and thousands of others for years without trial or even contact with a lawyer.

22 killed in suicide bombing in Nigerian market

Before Friday's release of 475 suspects, 468 had been freed after it was found they had no case to answer; 45 were jailed for between two and 15 years and 28 had their cases transferred to other jurisdictions.

A further 82 pleaded guilty in exchange for a lesser sentence or release, taking into account time served in custody. And others were freed after spending years behind bars.

The remaining cases have been delayed for another hearing.

Boko Haram's bloody quest since 2009 to establish a hardline Islamic state in remote northeast Nigeria has left at least 20,000 dead and forced more than 2.6 million others out of their homes.

The violence has also spilt over into neighbouring Cameroon, Chad and Niger.
COMMENTS
Comments are moderated and generally will be posted if they are on-topic and not abusive.
For more information, please see our Comments FAQ