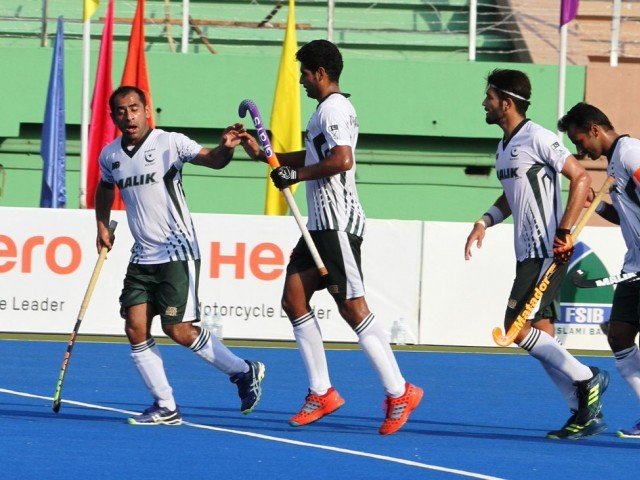 ---
KARACHI: Pakistan faced a major scare in their Tri-Nation Hockey Tournament match against Oman, but ended the match 4-4 at Muscat's Sultan Qaboos Sports Complex on Saturday.

Pakistan had built a three-goal lead in the first 10 minutes of the match to announce their domination over the hosts courtesy Arsalan Qadir's field goal, Abubakr Mehmood's penalty corner and another field goal by veteran Shafqat Rasool, respectively.


Pakistan start tri-nation hockey tournament campaign on winning note


The match seemed to have ended after Pakistan netted their third goal, but in an amazing turn around, Oman struck back hard and levelled the score with three goals in a span of 15 minutes.

Mubarak Al Qasmi opened Oman's scoring in the 11th minute, while Mehmood Al Hasni added one more in the 20th minute. Mahmood Bait Shamaiaa then levelled the scored with a 24th minute field goal.

And, just one minute later, Rashad Al Fazari pushed the ball into the net to help his team gain an upper hand in the match.

Over the next 18 minutes, the scoreline showed Oman leading 4-3, but Rasool equalised for Pakistan in the 43rd minute to make sure his team takes at least one point from the match.


Late Mahmood strike saves Pakistan's blushes against Japan


Oman's fightback might have given a minor heart attack to a lot of Pakistanis, but two of them were quite happy. Former Pakistan hockey team captain Tahir Zaman is currently the head coach of Oman; a position he assumed only a few week back, and Shakir Munir, former Pakistan junior international goalkeeper, who is now a FIH certified coach and part of the Oman coaching staff.

"Pakistan took the lead in the first 10 minute, but the comeback staged by our Oman team players was an incredible example of team work," Zaman told The Express Tribune. "This was a very productive match, the boys must have learned a lot from it and we hope to put up a better show in the next matches."

Meanwhile, Rasool said Pakistan suffered due to complacency. "We took them lightly. We should have gone with the same intensity as we did in the first match. We gave them chances which they availed and finished the game in an unexpected manner. We are looking forward to our next game against Japan where we hope to dominate them."

Pakistan now have five points from three matches. For Oman, it was their first point in three matches. Pakistan will face Japan in their next match.