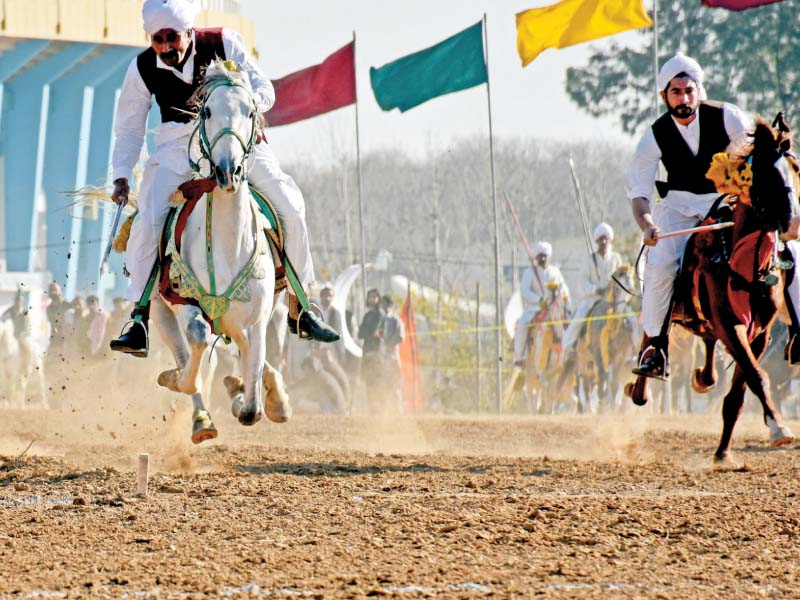 ---
ISLAMABAD: Decorated with garlands and decked out in colourful bridles and saddles, majestic steeds were ridden out by turbaned riders for the Annual Tent Pegging Festival which kicked off at the Pakistan Sports Complex (PSC) in the capital on Saturday.

Hundreds gathered at the PSC ground to watch the festival, organised by the All Pakistan Tent Pegging Association (APTPA) and the Pakistan Sports Board.

A total of 126 clubs and around 600 players from across the country are participating in the event.

The event was inaugurated by the Inter-Provincial Coordination Ministry Secretary Syed Abu Ahmad Akif. During the inauguration, Akif tried to mount a horse. However, he slipped and lost his balance.

It took several members of the organizing committee to prevent the federal secretary from having an unfortunate tumble.

Talking to APP, Malik Faizan of Al-Khyam Tent Pegging Club, explained that each team comprises four horses.

"Our club is the defending champion of the festival which sports a trophy and cash prizes for the top three positions," he said.

APTPA President Malik Meharban said that tent pegging is a traditional sport and the annual festival attracts the best tent-peggers from across the country.

"In tent pegging, riders use their skill to line up their lance with the peg," Meharban said.

While appreciating Minister for Inter-Provincial Affairs Riaz Pirzada for according space in PSB for tent pegging, he said that if proper budget is provided, they could build a permanent pavilion for the traditional sport and hold regular events.

Tent-pegging competitions have been held in the subcontinent for hundreds of years — some believe it originates from the martial traditions of the region — but now have largely been reduced to the odd festival. Punjab now hosts most of these events.

Diehard fans of the cavalry sport worry that the tradition is on its last legs, in the absence of official support and a lack of popularity among the young, urban Pakistani masses.

WITH ADDITIONAL INPUT FROM APP 

Published in The Express Tribune, February 18th, 2018.
COMMENTS
Comments are moderated and generally will be posted if they are on-topic and not abusive.
For more information, please see our Comments FAQ