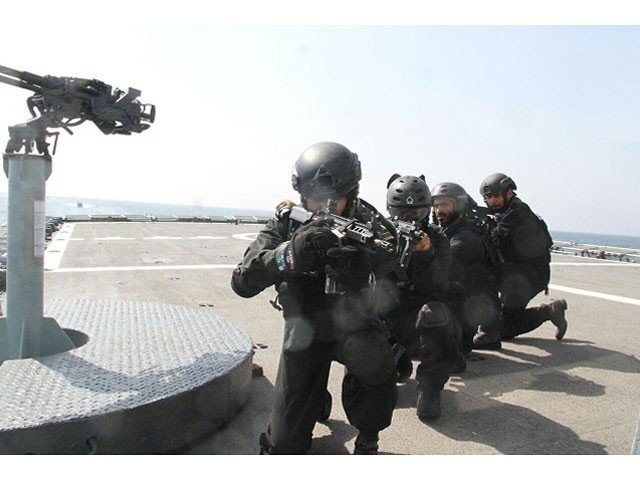 ---
A joint exercise between the naval forces of Pakistan and Saudi Arabia Naseem Al Bahr XI concluded in waters off Al Jubail.

The exercise comprised of practical demonstrations of fast boat attacks, various formations, maneuvering drills, defence against asymmetric attacks using fast boats, helicopter landings, boarding operations, anti-piracy and joint response to conventional threats at sea, a Pakistan Navy statement said on Saturday.

Live weapon firing was also conducted in which the ships successfully engaged their respective targets. Further, helicopters conducted joint operations with Saudi air force air arm elements.

A Mine Counter Measure Exercise (MCM) was also conducted for the first time as part of the exercise. During the sea phase of MCM, survey and diving operations and underwater demolition of targets were undertaken.

This year, Exercise Deraa Al Sahil was also a part of Naseem Al Bahr XI in which the two forces exercised amphibious landing operations, escorting operations, beach landing, sniper camouflage training and boarding operations.

In addition, small arms firing, cover and maneuver drills and para drop operations by Saudi marines were conducted.

Pak-Saudi naval forces conclude joint 'Affa Al Sahil' exercise

The exercises were followed by a closing ceremony, held at King Abdul Aziz Naval Base Al Jubail.

Addressing the ceremony, chief guest Chief of Staff (personnel), Vice Admiral Abdul Aleem termed the exercises in Saudi Arabian waters at mega scale a manifestation of high level of mutual faith, trust and confidence.

The regular conduct of exercise Naseem al Bahr between the two forces since 1993 is a testimony to the ever increasing cooperation between two brotherly countries in general and navies of both countries in particular.

Such interactions will enable both the navies of the region to jointly ensure maritime security.

The admiral highlighted Pakistan Navy's role in counter terrorism and counter piracy operations since 2004 and 2009 respectively in North Arabian Sea (NAS), Gulf of Aden (GOA) and Horn of Africa (HOA). CTF 150 and CTF 151.

These are a demonstration of Navy's commitment and resolve to maintain peace and order at high seas surrounding two countries.

He also appreciated the operational capabilities of Saudi officers and men displayed throughout the exercise and hospitality of their eastern fleet command during the stay of PN Flotilla at Port Al Jubail.
COMMENTS
Comments are moderated and generally will be posted if they are on-topic and not abusive.
For more information, please see our Comments FAQ