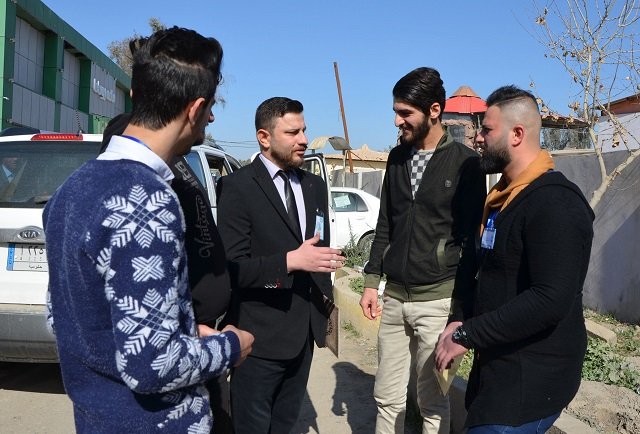 ---
MOSUL,IRAQ: In a classroom of the University of Mosul, in the Islamic State group's former Iraqi capital, around 50 volunteers have undergone a week's training on how to combat the militants' ideology.

The ulema, or Islamic scholars, aim to set up 'brigades' tasked with ridding Mosul residents of extremist ideas following the city's recapture last July which ended three years of Islamic State rule.

World pledges nearly $25b towards Iraq reconstruction

"Mosul must be liberated from the thinking of the Islamic State after having been liberated militarily," said Mussaab Mahmud, who just completed the course, using an Arabic acronym for Islamic State.

"We were deceived by Islamic State ideas and now we are trying to free ourselves from its ideology," said the 30-year-old day labourer.

The first group of volunteers came from all sectors of Mosul society, including mechanics, teachers and a sheikh.




The men aged from 25 to 45 signed up on Facebook for the course run by the Ulema Forum of Mosul, Iraq's second largest city which was left shattered by the months-long battle to expel Islamic State.

The classes are being conducted by five teachers who are experts in Islamic jurisprudence from Mosul and Tikrit, a city to the south that was also previously under brutal Islamic State rule.

"The lessons are concentrated on human rights, human development, peaceful coexistence and communal peace," the forum's president Sheikh Saleh al-Obeidi told AFP.

He said participants were tutored on "faith, Islamic jurisprudence and the Hadith (record of the sayings of the Prophet Mohammad) to allow them to counter the ideas of Islamic State and its intellectual terrorism".




Islamic State imposed its own rigid interpretation of Islamic law on all aspects of everyday life, branding opponents 'apostates' who should be killed.

Most members of religious and ethnic minorities who had lived in peace for centuries alongside Mosul's majority Sunni Muslims fled to escape the radicals with their beatings and public executions.

Sheikh Obeidi said the brigades will go out and "combat the extremist ideas on social media and by calling on residents in their homes".
His forum was established in 2014 in the autonomous region of Iraqi Kurdistan, to the north of Mosul, by ulema who had fled the city.

They broadcast on private television channels but residents risked the wrath of Islamic State if they were caught tuning in to the forum's programmes.

Sheikh Obeidi said that the classes would expand to cover "all social groups and both sexes", although it was still looking for permanent premises in the war-battered city.

One in four Iraqi children in poverty after war on Islamic State

Priority will be the children indoctrinated in Islamic State-run schools where they were taught the militant version of Islam and given weapons training.

"As a teacher myself, what I've learnt here will allow me as far as possible to erase the radical Islamic State ideas instilled in pupils, because they were the worst affected and influenced," said Ibrahim Mohammad Hamid, 27.

"I will go to the parents because the home and the family play a major role in spreading the idea of tolerance and coexistence," he said.

Mohammad Abaiji, a 24-year-old imam, or prayer leader, said he would run seminars in the mosque for children "to spread enlightened ideas, because Islam is a religion of tolerance".
COMMENTS
Comments are moderated and generally will be posted if they are on-topic and not abusive.
For more information, please see our Comments FAQ