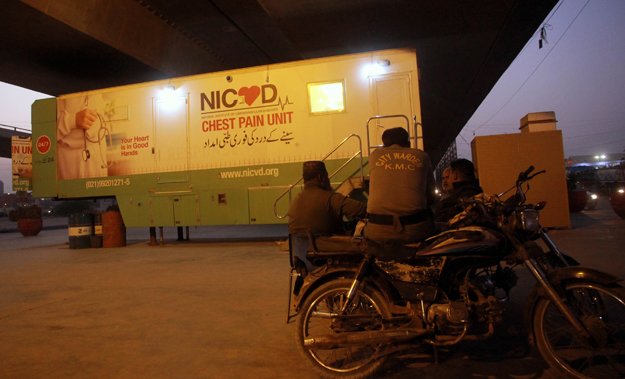 ---
KARACHI: Chest pain could be caused by something as simple as heartburn but could also be indicative of serious issues like angina or a heart attack. The National Institute of Cardiovascular Diseases (NIVCD) is the biggest public sector cardiac health facility in the city, but its location amid major health facilities like Jinnah Postgraduate Medical Centre and the National Institute of Child Health could be an impediment to timely cardiac attention. Besides, given the territorial size of the city to bring a suspected cardiac patient to NICVD becomes a herculean task in terms of time and distance.

To resolve this issue, NICVD has set up chest pain units in various locations of the city. Five state-of-the-art mobile facilities in Karachi help in the early diagnosis of cardiac complications free of charge. This has reduced the burden on the mother institution as patients, instead of flocking to the NICVD building, are visiting its mobile units. In case of a severe or complicated cardiac problem, they are referred to the main facility, otherwise they receive treatment at the mobile units. The facilities are located under the KPT flyover, in Malir, Gulshan-e-Iqbal, Gulbai and Nagan Chowrangi.



A huge blessing

Kamal Ahmed, a middle-aged cardiac patient who lives in North Karachi, visits the unit situated under the KPT Interchange near Qayyumabad Chowrangi while returning from his office in Korangi.

"I usually get my ECG [electrocardiography] done from here whenever I feel any pain in my chest," Ahmed said while sitting at the facility. He does not go to the main NICVD because, according to him, the main facility should be spared for those who require emergency medical intervention.

CM wants NICH upgraded to world class institute

Meanwhile, another man, Junaid Akhtar, a 62-year-old resident of Akhtar Colony, arrived at the facility with complaints of chest pains and a faster than normal heartbeat. Paramedics took him inside a room designated for tests and conducted his ECG. The ECG report was later presented to a female doctor who advised Akhtar to visit the outpatient department (OPD) at NICVD's main facility. He was also counseled regarding which medicines to take in the meantime and what food to avoid.

Shift incharge of the unit Dr Kubbra told The Express Tribune that any patient who arrives at the facility is first identified as a cardiac or non-cardiac patient through an ECG. If it is found that the patient does not have any cardiac problem, they are advised to visit Jinnah hospital as the mobile unit only caters to patients who have heart-related issues, she said.

"Patients in critical conditions are referred to the NICVD, whereas patients with other complications are referred to Jinnah hospital after counseling. We also call Aman or Edhi Foundation ambulances to transport patients," she explained.

The facility has cardiac medicines that are mandatory for first aid, Dr Kubbra said. Other facilities at the unit include oxygen supply for first aid, a small washroom for staff and patients and a small room with all the latest equipment needed for the diagnosis of cardiac complications in a fully air-conditioned environment.

"If we refer patients to the mother institute, we treat them so that their condition does not exacerbate before they reach the NICVD," she maintained. The shift incharge at the facility added that the unit is also visited by patients with non-cardiac complications like epigastric pain or fever. In such cases, patients are counseled to go to Jinnah hospital or other health facilities depending on the severity of their cases.

According to paramedic Zahida Parveen, who records the data of incoming patients, up to 40 patients visit the facility every day. She added that most complaints reported or diagnosed are of either myocardial infarction, commonly called heart attacks, or pulmonary edema.

The facility deals with a single patient at a time. However, it can cater up to more than 100 patients daily, Parveen said.

She recalled a patient who visited the facility while having a heart attack. According to her, he was travelling alone on a motorcycle near the unit when he suffered a heart attack. The facility provided him first aid after which he was referred to the NICVD on an emergency basis, an act that probably saved his life.

The facility works in three shifts throughout the day. Each shift has a doctor, two paramedical staff, one housekeeping staff and a security guard.




The incharge of the NICVD mobile unit beneath the Gulbai flyover, Dr Ateeq Gul, said that all kinds of cardiac emergencies, including heart failure, heart attacks and supraventricular tachycardia (abnormally fast heartbeat), are dealt with every day at his unit.

According to him, 50 to 60 patients from the Gulbai area and its peripheries visit the unit every day. "[In case of emergency], we provide first aid and conduct diagnostic tests on patients straight away, which increases chances of recovery," he said.

"These units have also served as a platform to disseminate awareness about chest pains among the residents living nearby," Dr Gul added.



Director's vision

As many as 25,000 patients have visited the mobile facilities since their launch in July last year, NICVD Director Prof Dr Nadeem Qamar told The Express Tribune. The director added that after the success of the mobile chest units, the institute has decided to raise their number in Karachi to 25 this year.

Provision of health facilities govt's top priority: minister

Prof Qamar also said that besides the five mobile facilities, the NICVD is also running a clinic on II Chundrigar Road to provide emergency first aid services to cardiac patients.

Of all the patients who visited the mobile units, 1,500 were diagnosed with heart attacks and they were immediately transferred to the main NICVD for angioplasties after giving them necessary first aid, Dr Qamar said. For heart patients, time is of the essence and if we lose the initial time, there are chances that the patients' condition will become critical, he explained.

Terming traffic congestion a menace for residents of the city, Dr Qamar said the mobile units were a great help as cardiac patients living nearby them were saved from travelling long distances and getting stuck in traffic jams to reach the main facility.

According to the director, around 11,000 patients who visited the mobile units had no cardiac issues and actually suffered simple chest or gastric pain, which they mistook for cardiac pain. "If all these patients had flocked to the NICVD, it would have created an unnecessary rush in the main emergency ward of the institute. The mobile units have helped reduce the flow of patients at the main facility," he said.




 

Serving outside Karachi

A satellite centre of the NICVD has also been functioning in Larkana since May last year.

The 77th Governing Body Meeting of the NICVD, which was held on January 22, 2018, was told that up till then, 704 patients had benefitted from the satellite centre. The centre had also performed 91 angiographies and a weekly paediatric OPD was also being held at the centre.

Chief Minister Murad Ali Shah, who attended the meeting, pledged to provide funds for the completion of the remaining construction work at the satellite centre in Larkana.

The meeting was also informed about the NICVD satellite centres in Tando Muhammad Khan and Hyderabad, which have been functioning since October and November last year respectively.

Sindh excels in public health domain, says Bilawal

Dr Qamar briefed the meeting that till then, 303 patients had received treatment at the centre in Tando Muhammad Khan. As many as 80 angiographies had been performed at the centre, which had also been providing echocardiography facilities. Regarding the NICVD centre in Hyderabad, Dr Qamar said it had been providing treatment to cardiac patients and 88 angiographies had been performed at the centre till then.

The CM and board members appreciated the NICVD's services and allowed the institute to fill its vacant positions of specialists and other staff at the meeting. "This is proving to be the best, free-of-cost and approachable service for poor and helpless patients," the CM remarked. He also directed Dr Qamar to set up 40 more units in rural areas of the province.

Health Minister Dr Sikandar Mandhro, Deputy Sindh Assembly Speaker Shehla Raza, MPA Dr Sohrab Sarki, Principal Secretary to CM Sohail Rajput, Health Secretary Dr Fazlullah Pechuho, Jinnah Postgraduate Medical Centre Executive Director Dr Seemin Jamali and others attended the meeting.

With an additional input from our correspondent
COMMENTS
Comments are moderated and generally will be posted if they are on-topic and not abusive.
For more information, please see our Comments FAQ