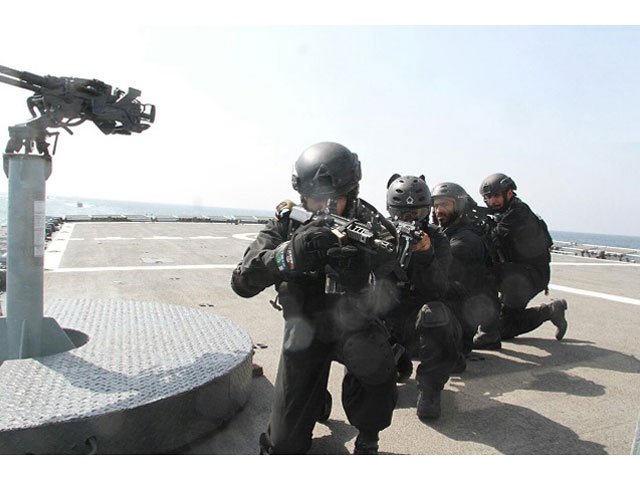 ---
Joint Special Operation Forces Maritime exercise between Pakistan and Saudi Arabia codenamed Affa Al-Sahil concluded in Karachi on Friday.

On Thursday, the first phase of the exercise, comprising operation against terrorists and elimination of hideouts at night, was completed.

In the second phase, the special forces exercised in open sea against terrorists and pirates, said a spokesperson of Pakistan Navy.

The purpose of the exercises, he added, is to extend professional capabilities of both the navies.

Meanwhile, the Commander of Saudi Special Force appreciated the expertise of both the forces and hoped that these will enhance their professional capabilities.

Pakistan, Saudi naval forces complete first phase of Aff'aa Al Sahil exercise

Exercise Aff'aa Al Sahil is aimed at enhancing inter-operability and sharpening the tactical proficiency in countering maritime human trafficking, piracy and terrorism. The exercise will help in developing synergy in operations against asymmetric and conventional threats.

The exercise is a bilateral exercise being conducted annually between the two sides since 2011.

Beside Exercise Aff'aa Al Sahil at Karachi, Exercise 'Dera Al Sahil' between Pak Marines and RSNF Marines is also underway at Saudi waters.

This exercise is aimed at enhance professional skills and practices especially in the field of coastal defence, such as demonstration for Military Operations and Urban Terrain (MOUT), Joint Beach Landing through Landing Craft Utility (LCU) and training of snipers through camouflage and concealment techniques.
COMMENTS
Comments are moderated and generally will be posted if they are on-topic and not abusive.
For more information, please see our Comments FAQ