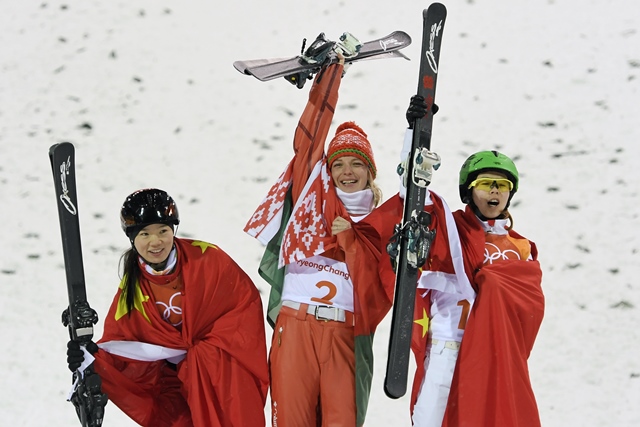 ---
PYEONGCHANG: Hanna Huskova won the Olympic women's aerials to give Belarus their first gold medal of the Pyeongchang Games on Friday. Zhang Xin and Kong Fanyu of China took silver and bronze respectively.

The final consisted of three rounds, with the three lowest scoring athletes eliminated at each stage. The highest score from the final round won gold. Australia's Danielle Scott and Olympic Athlete from Russia Kristina Spiridonova both went out in the first round after falls.

American Kiley McKinnon also went out at this stage, whilst Huskova sent an early message to her rivals, scoring 94.15, the highest score of round one. The first shock of the final came in the second round, when Sochi silver medallist and world leader Xu Mengtao landed heavily and was eliminated with a ninth place finish.

OAR pair Liubov Nikitina and Alexandra Orlova also crashed out in the second round. Once the competition reached the final six, Huskova's team mate and defending champion Alla Tsuper went for it all, attempting the most difficult jump of the night - the back full-full-full - but crumpled on landing and finished fourth.

This opened the door for Huskova, who scored 96.14 to edge out Zhang and secure a second consecutive Olympics gold for Belarus in the women's aerials. Despite a relatively poor score of 70.14, Kong was able to clinch the bronze medal as all three other finalists fell on landing. Huskova's victory means Belarus have won the last two Olympic gold medals in the women's aerials.

German pair claim world record in free skate

Huskova puts this down to relentless practice and hard work but she remained secretive about the exact tactics Belarus deploy. "Every team has its own strategy and obviously we have ours, but I cannot go into that. But it was a team effort and I want to say thank you to all my coaches. Without them, this gold medal would have not been possible," she said.

Tsuper echoed the sentiments, praising the team spirit within the Belarusian camp and in particular praising the influence of head coach Nikolai Kozeko, who had now trained four Olympic gold medallists.

The 38-year-old Tsuper, who was competing in her sixth Olympics in Pyeongchang, said she would have to take time out before making a decision on whether to come back for a seventh games at Beijing 2022. The Chinese have now had an athlete finish with a silver medal in this event at the last four Olympic Games. Zhang said she was happy that her hard work had paid off. "But I have regret too because I wanted that gold medal but we missed it," she said. "I could have got the gold medal if I had landed better."

Kong added that China would have to increase the difficulty of their jumps if they were to beat Belarus in the future. The jumps attempted by Huskova and Tsuper in the final were both more difficult than those of the Chinese. The two nations will continue their rivalry when qualification for the men's aerials starts on Saturday. China and Belarus have won the last three Olympic golds between them in the men's event.
COMMENTS
Comments are moderated and generally will be posted if they are on-topic and not abusive.
For more information, please see our Comments FAQ